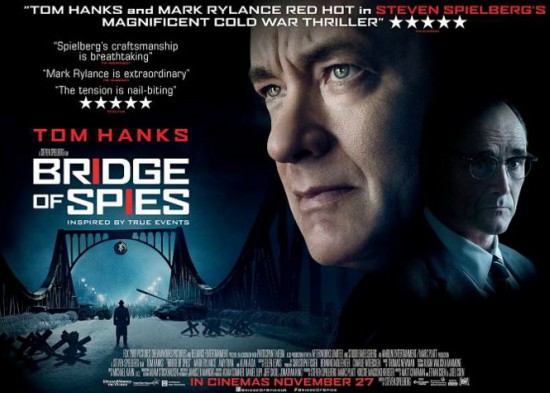 BRIDGE OF SPIES / MOST SZPIEGÓW (2015) 
GATUNEK – Dramat, Thriller , LEKTOR.PL
OPiS FiLMU – Lata pięćdziesiąte dwudziestego wieku. Kiedy FBI aresztuje Rudolfa Abla, sowieckiego agenta mieszkającego w Nowym Jorku, w narodzie narastają strach i paranoja. Mężczyzna, którego oskarżono o wysyłanie zakodowanych wiadomości do Rosji, odmawia współpracy, trafia do aresztu i czeka na proces. Rząd zwraca się do Jamesa Donovana – brooklyńskiego prawnika i byłego oskarżyciela w procesach norymberskich. Donovan zgadza się zostać obrońcą Abla, ponieważ wierzy, że każdy człowiek zasługuje na uczciwy proces, niezależnie od obywatelstwa. Podczas przygotowań do procesu między prawnikiem, a jego klientem, rodzi się więź oparta na wzajemnym szacunku i zrozumieniu.
PLOT – In Brooklyn, New York, in 1957, Rudolf Abel retrieves a secret message from a park bench and reads it just before FBI agents burst into his rented room. He prevents discovery of the message, but other evidence in the room leads to his arrest and prosecution as a Soviet spy.
After Abel refuses to cooperate with the U.S. government, they have him tried, but want it to appear to be "a fair trial" so that the Soviet Union cannot use it for propaganda. James B. Donovan, an insurance lawyer with experience in criminal law, is assigned to defend Abel. Donovan takes his work seriously, although no one – including his family, his firm, the prosecuting attorneys and the judge – expects or wants him to do so. As news of him defending Abel is put on newspapers, Donovan is treated with disdain in public places. By contrast, Abel is impressed by Donovan's determination and professionalism, as well as his kindness.
At the hearing, Abel is found guilty of all charges. Before the sentencing, Donovan meets the judge and suggests that Abel not be sentenced to death, as he could serve as "an insurance" should a U.S. spy be captured by the USSR. The judge is apparently dismissive but in the end sentences Abel to 30 years imprisonment, outraging the public. Hate mails are sent to Donovan's office and on one occasion, shots are fired at his home. Nevertheless, Donovan appeals to the U.S. Supreme Court to reduce the sentence, on the ground that the evidence presented by the prosecution is tainted by an invalid search warrant, but his appeal is denied. Back in Manhattan, Donovan finds his own partner at the firm is turning his back on him.
Some time later, Francis Gary Powers goes on a U-2 spy plane sortie over the Soviet Union, where he is shot down and captured. He is convicted and subjected to interrogation. The USSR sends a backchannel message to Donovan, proposing a prisoner exchange: Abel for Powers. Determined to see things through, Donovan agrees to handle negotiations. As the USSR doesn't want to admit Abel is their spy, the exchange is to take place in East Germany.
Meanwhile, Frederic Pryor, an American economics graduate student, visits his German girlfriend in East Berlin just as the Berlin Wall is being built. He tries to bring her back into West Berlin, but is stopped by border guards, arrested and labeled an American spy. Donovan tells his wife that he is going on a fishing trip to England, and travels to West Berlin, accompanied by CIA agents.
Donovan goes alone to the Soviet Embassy in East Berlin, and meets Ivan Schischkin, who claims to be Second Secretary at the Embassy; Donovan's CIA handler explains that he is actually the KGB's chief in Western Europe. Schischkin wants Abel released first, and Powers released several months after, but Donovan insists on a simultaneous release. Donovan also wants Pryor released as well, but Schischkin informs him that Pryor is held by the German Democratic Republic. Donovan begins to understand that the interests of the USSR and GDR do not overlap. The USSR wants Abel back, while the GDR wants to be recognized as a nation and an ally to the USSR. As a result, both want Abel for themselves. Donovan meets Vogel, a GDR lawyer who supposedly represents Abel's family, and arranged to exchange Abel for Pryor.
Although the CIA is interested only in Powers' return, it allows Donovan to negotiate for Pryor as well as long as the Abel-for-Powers deal is not jeopardized. Schischkin informs Donovan that the USSR agrees with him, and sets the exchange on the Glienicke Bridge. However, Vogel pulls out of the negotiation after finding out about the deal Donovan made with the USSR. Donovan is contacted by Vogel's superior, Harald Ott, East German Attorney General, and goes to his office despite the CIA agents' protest. Donovan suggests the 2-for-1 deal, and Ott bluntly refuses and sends him out. Via his secretary, Donovan sends a message to Ott. He states that the US wants both Pryor and Powers for Abel, or the entire deal will be scrapped. Abel may talk, and the USSR would blame East Germany for refusing to give up Pryor. At the end of the day, the GDR calls and accepts the deal.
At the Glienicke Bridge, Donovan meets the grateful Abel. On the other side, Powers appears, but Pryor is to be released at Checkpoint Charlie, not the bridge. Both side urge each other to finish the deal, but Donovan wants to wait for confirmation that Pryor is released first. Out of gratitude, Abel agrees to wait with him. Eventually, Pryor is taken to Checkpoint Charlie, and Abel is exchanged for Powers on the bridge.
An exhausted Donovan arrives at home from the "fishing trip" and goes upstairs. As his family watch TV, they are stunned to learn that Donovan helped facilitate the release of Abel, Powers and Pryor. His wife Mary goes upstairs and finds him sound asleep.
5-05.2019
BDRip 720p PL
oxycloud.com/171d50118721aef8/
[collapse]