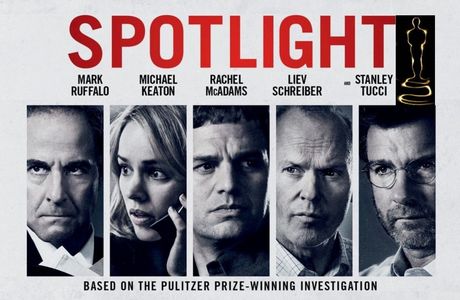 SPOTLIGHT (2015)
GATUNEK – Thriller, Biograficzny, Historyczny ▶LEKTOR PL◀
OPiS FiLMU – Tuż po objęciu stanowiska, nowy szef Globe'a, Marty Baron, kieruje dziennikarzy do zajęcia się sprawą księdza oskarżonego o seksualne wykorzystywanie dzieci na przestrzeni 30 lat. Świadomi delikatności i społecznego oddźwięku, jaki będzie wiązał się ze skandalem, reporterzy zagłębiają się w sprawę. Rozpoczyna się dziennikarskie śledztwo, którego wyniki zbulwersują cały świat i wstrząsną Ameryką. Dziennikarze kontaktują się z adwokatem ofiar, docierają do dorosłych, którzy byli molestowani w dzieciństwie. Wkrótce okazuje się, że sprawa jest większa, niż ktokolwiek na początku przypuszczał, ociera się o władze kościelne, które przez lata tuszowały przestępstwa.
PLOT – In 2001, The Boston Globe hires a new editor Marty Baron (Liev Schreiber). Meeting with Walter "Robby" Robinson (Michael Keaton), Baron discovers that Robinson heads the "Spotlight" team, a small group of journalists who do investigative work. When Baron reads a small column about pedophile priest John Geoghan and a lawyer who says that the Cardinal knew about it Baron urges the Spotlight Team to chase the story.
Initially believing that they are following the story of one priest who was moved around several times the Spotlight Team begins to uncover a pattern of sexual abuse of children by Roman Catholic priests in Massachusetts and an ongoing cover-up by the Boston Archdiocese. They learn through an ex-priest that there should be approximately 90 abusive priests in Boston and, through their research, develop a list of 87 names and begin finding the victims to back up their suspicions. Their investigation is impeded by the September 11 attacks which causes them to shy away from the story for awhile. The story picks up momentum again when, through a legal loophole, Michael Rezendes is able to discover some documents that confirm that higher-ups in the church were aware of the problem and ignored it.
After The Boston Globe wins a case to have even more legal documents unsealed the Spotlight Team finally begin to write the first of their stories, planning to publish their findings in early 2002.
As they are about to go to print Robinson confesses to the team that he was sent, and published, a list of 20 pedophile priests in 1993 in a story he never followed up on. Baron, nevertheless tells Robinson and the team that the work they are doing is important. The story goes to print with a link leading to the documents and a request for victims of pedophile priests to come forward. The following morning the Spotlight Team is inundated with phone calls from victims coming forward to tell their stories.