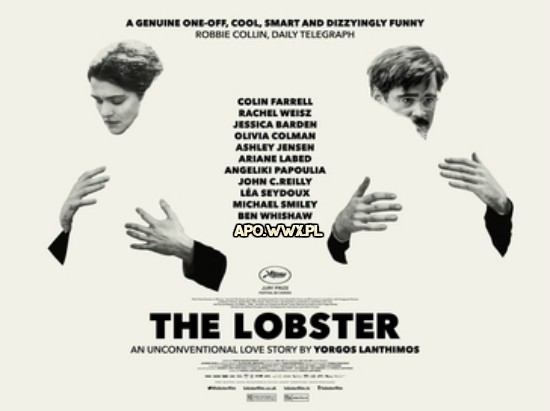 Homar / The Lobster (2015) 
GATUNEK –  Thriller, Sci-Fi, Komedia, Romans, LEKTOR.PL
OPiS FiLMU – W świecie niedalekiej przyszłości sportretowanym przez Lanthimosa naprawdę źle się dzieje. Za masturbację karze się
przypalaniem ręki w opiekaczu, a za bycie singlem dłużej niż 40 dni – przemianą w zwierzę. Bohater grany przez Colina Farrella
zdecydował się na tytułowego homara. Najpierw oglądamy jego starania o to, by dobrać się z kimś w parę.
Jako że na miłość nie ma co czekać, trzeba zbudować związek na innym fundamencie – podobnej wadzie wzroku czy sympatii do piosenki.
Alternatywą dla tego świata jest rzeczywistość lasu, rządząca się równie radykalnymi zasadami: tu karą za seks jest kastracja,
zaś niewinny flirt lub pocałunek kończy się obcięciem warg. I w nim bohater spróbuje swoich szans.
Jeden z najciekawszych reżyserów greckiej Nowej Fali swój anglojęzyczny debiut wyposażył w najlepsze cechy poprzednich filmów.
To tragikomedia, która bezlitośnie punktuje sposób, w jaki podporządkujemy się kulturowym normom, popędom
i budującym nasze wyobrażenia o szczęśliwym życiu romantycznym komediom.
PLOT – According to the rules of the city, single people are taken to an isolated hotel where they are given 45 days to find a partner. Those who fail are turned into an animal of their choice and released into the forest. Masturbation is banned but sexual stimulation by the hotel maid, without orgasm, is mandatory. The guests attend dances and watch propaganda extolling the virtues of partnership. They can extend their stay by hunting escapees, the "loners", with tranquilliser guns in the forest. Each captured loner affords an extra day to find a partner.
After his wife leaves him for another man, David arrives at the hotel with his brother, who was turned into a dog after failing to find a partner. He makes acquaintances with a man with a lisp and a man with a limp. After the lisping man is caught masturbating, the Hotel Manager burns his fingers in a toaster. The limping man wins the affections of a woman who suffers from nosebleeds by feigning his own nosebleed problem by smashing his nose against hard surfaces. The two move to the couples section to begin their month of trial partnership.
David decides to seduce a hotel guest with a reputation for cold-heartedness. Sharing a jacuzzi, she feigns choking; when he does not respond, she decides they may be a good match and they begin their trial relationship. After she murders David's brother, he claims he does not care; when he begins to cry, she concludes their relationship is built on a lie. As she marches him to the hotel manager he escapes and, with the help of the maid, tranquillises her and transforms her into an animal.
David escapes the hotel and joins the loners in the woods. The loners forbid romance of any sort, which is punishable with disfigurement. David, who is short-sighted, begins a secret relationship with a short-sighted woman. They go on covert missions to the city where their cover requires them to appear as lovers, which they secretly enjoy. They develop a sign language so they can communicate without detection.
The loners launch a raid on the hotel. David tells the woman who has nosebleeds that her partner has been faking his nosebleeds. The others give the hotel manager's husband the chance to shoot his wife to save himself; he pulls the trigger and finds the gun is empty, and the loners leave them to face each other.
David and the short-sighted woman conspire to escape and live in the city as a couple. The loners' leader discovers their plans in the short-sighted woman's journal, she takes her to the city under the pretence of having surgery to correct her short-sightedness, but instead has her blinded. David asks the short-sighted woman to run away with him to the city. He attacks the loners' leader and leaves her tied up in a grave for dogs to attack.
David and the short-sighted woman escape to the city. The woman waits in a restaurant while David prepares to blind himself in the bathroom.