Manjhi: The Mountain Man (2015)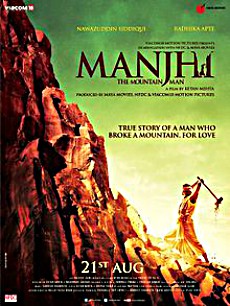 OPiS FiLMU – Opowieść o Manjhi, biednym mieszkańcu odległej wioski, którą od reszty świata oddzielało potężne pasmo górskie. Gdy pewnego razu w czasie codziennej wspinaczki ginie jego żona, mężczyzna postanawia wykuć ścieżkę przez skały. Zajęło mu to 22 lata.
PLOT – In the 1960s Dashrath Manjhi (Nawazuddin Siddiqui) lived in a small village Gehlaur near Gaya, Bihar, India with his family including his wife Phaguniya Devi (Radhika Apte). There was a rocky mountain near his village that people either had to climb across or travel round to gain access to medical care at the nearest town Wazirganj. One day Manjhi's wife fell while trying to cross the mountain, after which Manjhi decided to carve a road through it. When he started hammering the hill people called him a lunatic but that only steeled his resolve further. After 22 years of back-breaking labour, Manjhi carved a path 360 feet long, 25 feet deep in places and 30 feet wide.
Manjhi died in 2007. The film's postscript states that 52 years after he started breaking the mountain, 30 years after he finished and 4 years after his death the government finally made a metalled road to Gehlaur in 2011.
GATUNEK – Biograficzny, Dramat, Historyczny
[imdb id="tt3449292″]
Manjhi: The Mountain Man (2015)