The Condemned / Potępiony (2007)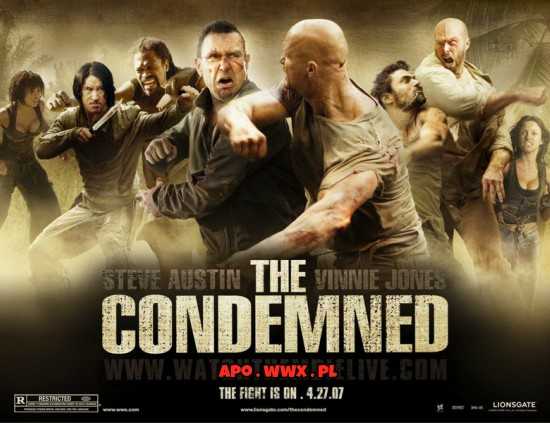 OPiS FiLMU – Joe Conrad oczekuje na wyrok śmierci. Pewien bogaty producent postanawia wykorzystać go w swoim projekcie – pojedynku telewizyjnym, rozgrywającym się na odludnej wyspie. Udział w show ma wziąć 10 uczestników – skazańców z całego świata. Obowiązuje jedyna reguła – przeżyć ma tylko jeden z nich, a nagrodą dla zwycięzcy będzie wolność.
PLOT – Jack Conrad (Steve Austin) is awaiting execution in a corrupt Salvadoran prison. He is "purchased" by a wealthy television producer and transported to a deserted island in the South Pacific along with nine other condemned criminals similarly purchased from prisons around the world. They are "offered" the opportunity to avoid capital punishment and win back their freedom by fighting to the death in an illegal game to be filmed and broadcast live over the Internet.
A bomb is placed on the ankle of every contestant, each featuring a 30-hour countdown timer, and a pin (similar to a grenade) that will detonate the bomb after a ten-second delay. The winner will have the bomb removed and be given their freedom as well as a pocket full of cash as the prize. Ian Breckel (Robert Mammone), the producer, is aiming for online ratings that equal or beat the latest Super Bowl reception of 40 million television viewers.
As the broadcast progresses, FBI agents discover Conrad's real identity as Jack Riley after a tip from one of Conrad's former classmates. Conrad is discovered to be a former Delta Force operative who was captured on a Black ops mission to El Salvador after bombing a building controlled by drug dealers. Conrad's girlfriend Sarah (Madeleine West) becomes aware of the situation and watches the show at the local bar she works at as it unfolds.
Ewan McStarley (Vinnie Jones) and Saiga (Masa Yamaguchi) team up to remove the competition, while Yasantwa (Emelia Burns) uses her wiles to trick others to their death. After seeing the show's broadcast tower before the show, Conrad infiltrates the tower and calls Sarah, managing to tell her the latitude of the island before he is forced to leave.
After the other seven contestants have died, Conrad is left alone against McStarley and Saiga. He stabs Saiga, and McStarley flees. Eventually, a helicopter drops a shotgun down to McStarley, who uses it to hunt down Conrad. After Conrad falls into a stream, McStarley runs into the cameraman and his armed guard dressed in ghillie suits while searching for Conrad, and shoots them, picking up the guard's MP5 submachine gun.
When McStarley and Conrad meet again, Conrad ends up rolling over a cliff and into a stream to avoid being shot by McStarley's shotgun. Conrad is presumed dead by the fall, and McStarley is declared the winner. As McStarley is being driven to the control tower to collect his prize, Breckel hears that the FBI has sent United States Navy SEALs to take him into custody. After he meets McStarley and de-activates his bomb, he tells him that he will not receive his prize money. Breckel and McStarley fixed the game in his favor in exchange for his freedom and profits. McStarley takes an MP5 from one of the guards, and kills the tech team in the building, one by one, even though they truthfully did not know that Breckel was abandoning them all. When he corners Julie, Breckel's girlfriend, he is confronted by Conrad, who shoots him several times after talking briefly. Conrad grabs McStarley's two machine guns and chases down Breckel, who is fleeing the island in a helicopter. After emptying the two guns firing at the helicopter, he is given McStarley's re-activated ankle bomb by Julie. Conrad throws it into the helicopter, which explodes and crashes into a cliff.
The epilogue shows Conrad being driven back to Sarah's home in Texas, a free man. He is greeted by Sarah, who presumed him dead after he fell off the cliff in his struggle against McStarley. The film ends with Conrad smiling slowly.
GATUNEK – Thriller, Akcja
[imdb id="tt0443473″]
The Condemned / Potępiony (2007) BluRay x264-YIFY