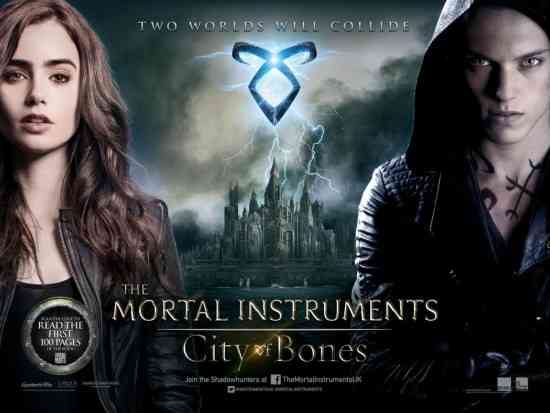 Dary Anioła: Miasto kości / The Mortal Instruments: City of Bones (2013) 
GATUNEK – Akcja, Przygodowy, Fantasy, LEKTOR.PL
OPiS FiLMU – Nowy Jork. Uczennica college'u i utalentowana malarka, Clarissa "Clary" Fray (Lily Collins), mieszka z matką Jocelyn (Lena Headey) Pewnego wieczoru dziewczyna wybiera się ze swoim najlepszym przyjacielem, Simonem (Robert Sheehan), do modnego klubu Pandemonium i jest świadkiem morderstwa. Troje nastolatków z podobnymi tatuażami i dziwną bronią zabija na zapleczu niebieskowłosego chłopaka, a po chwili jego ciało rozpływa się w powietrzu. Zabójcy są zaskoczeni, że dziewczyna ich zobaczyła. Przedstawiają się jej jako Nocni Łowcy – pół ludzie, pół anioły, których zadaniem jest chronić Ziemię przed demonami. Tak Clarissa poznaje rodzeństwo Isabelle (Jemima West) i Aleca (Kevin Zegers) Lightwoodów oraz ich adoptowanego brata, tajemniczego Jace'a Waylanda (Jamie Campbell Bower). Kiedy zaniepokojony Simon odnajduje Clary, okazuje się, że tylko ona widzi pogromców ciemności. Niebawem dziewczyna znów spotyka Jace'a, który opowiada jej o magicznym podziemnym świecie pod Manhattanem i przekonuje ją, że wcale nie jest zwykłą nastolatką. Rozmowę przerywa im telefon od Jocelyn. Clarissa słyszy w tle hałasy, a kobieta krzyczy, by córka nie wracała do domu. Przerażona Clary biegnie jej na pomoc i zastaje splądrowane mieszkanie. Jej matka zniknęła, a w pobliżu czai się demon w ciele psa. Clary chroni się przed nim, kiedy była bliska śmierci zjawił się Jace i zabił demona. Jace zabrał Clary do miejsca, gdzie przebywali wszyscy nocni łowcy i wyjaśnił jej na jakiej zasadzie funkcjonują oraz jak powstała rasa Nocnych Łowców. Według legendy anioł Razjel dał ludziom kielich, miecz i lustro. W kielichu, znanym potem jako Kielich Anioła, anioł zmieszał swoją krew z krwią ludzi, a ci co się z niego napili zostali Nocnymi Łowcami tak jak potem ich potomkowie. Jace i Clary przeżyli razem wiele przygód a wszystko po to by odnaleźć cenny Kielich Anioła przed upadłym Nocnym Łowcą, tajemniczym Valentinem…
PLOT – New York City teenager Clary Fray begins seeing a strange symbol, worrying her mother Jocelyn Fray and her mother's friend Luke Garroway. Later, at a nightclub with her friend, Simon Lewis, Clary is the only person who sees Jace Wayland killing a man. Meanwhile, Jocelyn is abducted by two men, Emil Pangborn and Samuel Blackwell, but she is able to call Clary and warn her about someone named Valentine. Jocelyn drinks a potion putting her in a comatose state. Returning home, Clary finds her mother missing and is then attacked by a demon. Jace appears and kills it. Jace explains that he and her mother Jocelyn are both Shadowhunters (also called Nephilim), warriors that slay demons and rule over the downworlders. Clary has inherited her powers, including the ability to use runes.
Madame Dorothea, the Fray's neighbor and a witch, deduces that Pangborn and Blackwell seek the Mortal Cup, one of the three Mortal Instruments given to the first Shadowhunter by the Angel Raziel. It allows normal humans to become half-Angel Shadowhunters. Simon, now able to see Jace, arrives and they go to Luke's bookstore. Pangborn and Blackwell are interrogating Luke there, who claims he cares nothing for Jocelyn and only wants the Mortal Cup. The trio escapes to the Shadowhunters' hideout, the Institute, where Clary and Simon meet two other Shadowhunters Alec Lightwood and Isabelle Lightwood, and their leader, Hodge Starkweather. He reveals thatValentine Morgenstern, an ex-Shadowhunter who betrayed the Nephilim, now seeks the Mortal Cup to control all Shadowhunters and demons.
Hodge instructs Jace to take Clary to the City of Bones so the Silent Brothers can probe Clary's mind for the Mortal Cup's location. The Brothers uncover a connection toMagnus Bane, the High Warlock of Brooklyn. Bane says Jocelyn had him block the Shadowhunter world from Clary's mind. Vampires then kidnap Simon from Magnus' party for downworlders. Clary, Jace, Alec, and Isabelle trail them to their hideout and rescue him but are outnumbered. Werewolves (that share a truce with the Shadowhunters) intervene and save them. These are led by Luke.
At the Institute, Clary shares a romantic evening with Jace, ending in a kiss. When Simon confronts Clary about it, she downplays the incident, angering Jace. Simon confesses to Clary that he is in love with her, leaving her feeling guilty because she does not reciprocate his feelings.
Clary realizes the Mortal Cup is hidden inside one of Madame Dorothea's tarot cards that were painted by her mother. The group goes to Dorothea's apartment but she has been replaced by a demon sent to steal the Cup. Simon and Jace kill it, but Alec is critically wounded. Clary retrieves the Mortal Cup and they return to the institute.
Clary gives the Mortal Cup to Hodge who betrays them by summoning Valentine Morgenstern and giving him the cup. Valentine reveals he is Clary's father and wants her to join him. She escapes through a portal that transports her to Luke's bookstore. Luke, revealed to be a werewolf, confirms that Valentine is her father, and says Clary had an older brother named Jonathan who was killed. Luke and his werewolf pack return to the Institute with Clary to fight Valentine, who has summoned an army of demons through a portal he created. Simon and Isabelle close the portal with help from a repentant Hodge, who sacrifices himself. Meanwhile, Magnus Bane arrives and heals Alec.
Clary and Jace fight Valentine, who claims both are his children. They refuse to join him and, following a battle, Clary pushes him through the portal after giving him a fake Mortal Cup. The portal is destroyed, and Jocelyn is rescued, but she remains in a coma at the hospital. Clary tells Simon that someday someone will love him. Clary heads back home and uses her new-found powers to repair the apartment. Jace appears on his motorcycle, confessing he needs her and wants her to return to the Institute. Realizing that she belongs in the Shadowhunter world, she goes with him and they ride into the distance.
YOUTUBE-online
https://www.youtube.com/watch?v=utatDbk9o4c
[collapse]