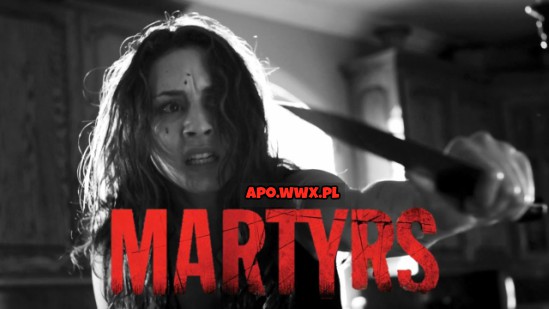 MARTYRS (2015)
OPiS FiLMU – Lucie jako dziesięciolatka była torturowana. Jako dorosła kobieta szuka zemsty na swoich oprawcach. Razem ze swoją przyjaciółką z dzieciństwa, zbliżając się do okrutnej prawdy, na powrót wkracza w koszmar.
PLOT – In 2008 original director Pascal Laugier confirmed in an interview that he was in the middle of negotiating the rights for Martyrs to be remade in America. It was to be directed by Daniel Stamm, director of The Last Exorcism, and written by Mark L. Smith, writer of Vacancy as well as from the producers of Twilight. The producer of the film said he would like Twilight actress Kristen Stewart for the film, though her presence in the film was later denied by Stamm. Stamm said "[The original film] is very nihilistic. The American approach  would go through all that darkness but then give a glimmer of hope. You don't have to shoot yourself when it's over."He later described the script with "What happened was the French had done these 30 pages of just mind-numbing, repetitive violence, which is genius because it makes you feel the actual horror of that stuff, but there is no entertainment value. And so the Americans come in and go, 'We have to spice this up and make it more entertaining,' so suddenly it's 30 pages of Saw that just didn't work. The American remake keeps both girls alive, whereas the French version kills one of the girls very early. If you keep both of them alive this gives you a really great chance to have this psychological play between them and the torturers. "
In a 2014 interview, Stamm revealed he had left the project after the budget had been reduced, stating, "I think they're now back to making the movie for like $1 million, really low budget, which I think you could almost do, it's just there's this philosophy in Hollywood that you can never go back budget-wise. As a filmmaker you are judged by that. And then there's also this concept I was unaware of called plateauing, where if you're a filmmaker who makes two movies in the same budget bracket, that becomes your thing. You are the guy for the $3 million movie, and then that's all you do. And so my agents wouldn't let me do the $1 million movie, because then that's it for you, you'll supposedly never get that bigger budget".
In February 2015 the new production company The Safran Company announced that the movie was already filmed and that the Goetz Brothers, Michael and Kevin, had directed. The film stars Bailey Noble, Troian Bellisario, Kate Burton and Blake Robbins.
GATUNEK – Dramat, Horror, Thriller
[imdb id="tt1663655″]
Martyrs 2015 BDRip x264-ROVERS