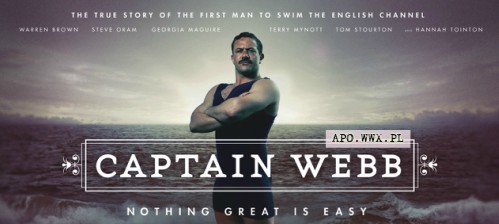 KAPITAN WEBB / CAPTAIN WEBB (2015) 
GATUNEK – Dramat ,LEKTOR PL
OPiS FiLMU – Rok 1875. Kapitan Matthew Webb (w tej roli Warren Brown), emerytowany marynarz i poszukiwacz przygód, postanawia dokonać czegoś, co nie udało się jeszcze żadnemu człowiekowi – przepłynąć wpław kanał La Manche. Uzbrojony wyłącznie w swoje wąsy, flaszkę brandy i specjalny wełniany strój pływacki, przystępuje do realizacji karkołomnego planu. 39 mil, które dzieli Dover od wybrzeży Francji, pokonuje w 22 godziny. Więcej osób stanęło na szczycie Mount Everest, niż przepłynęło kanał La Manche. Czyn Webba jest tym bardziej niezwykły, że dokonał go bez pomocy wynalazków czy technologii.
PLOT – The Greatest Englishman tells the story of Captain Matthew Webb, the first-ever person to successfully swim the English Channel in 1875 equipped only with his moustache, doses of Brandy and a wire wool swimsuit.
[imdb id="tt3449664″]