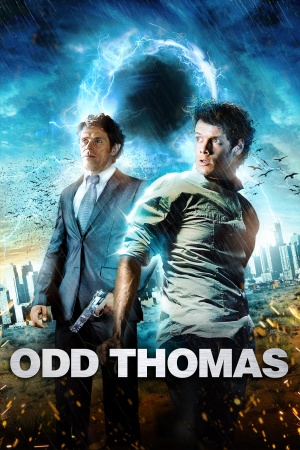 Odd Thomas (2013)
GATUNEK: komedia | Horror | Mystery
OPiS: Ekranizacja kultowej serii książek Deana Koontza.
Dwudziestoletni Odd Thomas posiada niezwykły dar – "szósty zmysł" umożliwiający mu kontakty z duchami. W pewnym momencie jest świadkiem inwazji tajemniczych cieni, które przechodzą do świata ludzi przez portal w opuszczonym domu na przedmieściach.. Wykorzystuje swoje zdolności, by pomagać miejscowej policji w rozwiązywaniu zagadek kryminalnych.
PLOT: Odd Thomas is a 2013 American mystery thriller film based on Dean Koontz's novel of the same name. It is directed, written and co-produced by Stephen Sommers and stars Anton Yelchin as Odd Thomas, with Willem Dafoe and Addison Timlin as Wyatt Porter and Stormy Llewellyn.
Odd Thomas (Yelchin) lives in a small town in California called Pico Mundo. His morning of August 14 begins with him coming out of his apartment, and meeting the ghost of a teenage girl named Penny Kallisto, who silently leads him to a street, where Harlo Landerson rolls his Pontiac convertible beside Odd and says hello. Odd immediately pulls the keys out of the ignition and accuses Harlo of raping and murdering Penny, noting two pieces of white felt from the victim that Harlo apparently has in his pocket. Harlo flees and Odd gives chase, with the chase culminating inside a child's room in a stranger's house. Harlo and Odd have a fistfight and Odd knocks Harlo unconscious. Odd waits on the scene and meets with his friend, police chief Wyatt Porter (Dafoe), who knows somewhat of Odd's psychic gifts and promises to spin the story to keep public attention away from Odd, as Odd does not want that attention. In his narration, he says, "I see dead people, but then, by God, I do something about it".
From there, he goes to his job as a short-order cook, where he ends up serving lunch to a strange man (Hensley) with a haircut that resembles some kind of mold.
Director: Stephen Sommers
Writers: Stephen Sommers (screenplay), Dean R. Koontz (based on the novel "Odd Thomas" by)
DVDRip 
http://notepad.cc/odd-thomas-2013-dvdrip-x264-vomit