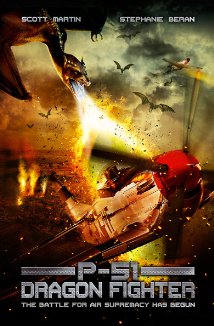 P-51 Dragon Fighter 2014 DVDRip x264 AC3-MiLLENiUM
OPIS: Afryka, rok 1943. Wobec postępującego natarcia Amerykanów naziści decydują się na desperacki krok – korzystając z czarnej magii, uwalniają stado krwiożerczych smoków i wypuszczają ich na wroga. Na ich drodze staje kilka załóg z bohaterskiej alianckiej eskadry.
PLOT: As World War Two rages on, the allies are about to push the Nazis out of North Africa. That's when the Nazis turn up the heat, unleashing their secret Weapon: DRAGONS!!! The allies quickly lose ground to the ancient monster, and are close to complete annihilation when the Allies put together a group of special fighter-pilots, specially trained to fight a beast everyone thought was a myth.
Tytuł..: P-51 Dragon Fighter
Produkcja…..: USA
Gatunek…: Fantasy, Wojenny
Czas trwania……: 85 min.
Premiera…….: 2014 – Świat
Reżyseria….: Mark Atkins
Scenariusz…: Mark Atkins
Aktorzy…: Scott Martin, Stephanie Beran, Ross Brooks, Ozman Sirgood
P-51 Dragon Fighter 2014 DVDRip x264 AC3-MiLLENiUM
http://notepad.cc/p-51-dragon-fighter-2014-dvdrip-x264-ac3-millenium