Paranormal Activity The Marked Ones / Paranormal Activity: Naznaczeni (2014)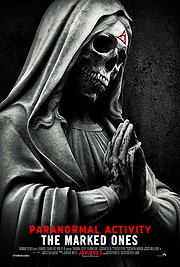 OPIS FiLMU: Paranormal Activity: Naznaczeni – amerykański horror z 2014 r. w reżyserii Christophera B. Landona. Film jest kontynuacją Paranormal Activity 4, piątym z kolei obrazem filmowej serii zapoczątkowanej w 2007 roku.
Historia rozpoczyna się w czerwcu 2012 roku na przyjęciu w Oxnard w Kalifornii. Gdy w mieszkaniu umiera kobieta, Jesse i jego znajomi postanawiają rozwikłać sprawę za pomocą kamery. Z czasem odkrywają coraz więcej rzeczy związanych z rytuałami czarnej magii, a nawet brakującą kasetę z Paranormal Activity 3. Zaczyna też dochodzić do niewytłumaczalnych zjawisk. Niedługo potem Jesse odkrywa na swojej ręce dziwny znak. Nie wie, że pozostawił go demon, który zamierza przejąć nad nim kontrolę.
PLOT: A young California Latino named Jesse (Andrew Jacobs) is designated for possession by the same malevolent demon who previously claimed Kristi and Katie. Christopher Landon (son of Highway to Heaven actor Michael Landon) wrote and directed this spin-off/sequel produced by Oren Peli and Jason Blum.
Tytuł…: Paranormal Activity The Marked Ones / Paranormal Activity: Naznaczeni
Produkcja…: USA
Gatunek…: Horror
Czas trwania….: 84 min.
Premiera…: 01.01.2014 – Świat, 24.01.2014 – Polska
Reżyseria..: Christopher Landon
Scenariusz…: Christopher Landon
Aktorzy…..: Andrew Jacobs, Jorge Diaz, Gabrielle Walsh, Gloria Sandoval
Paranormal Activity The Marked Ones / Paranormal Activity Naznaczeni (2014) EXTENDED-BDRip.x264-SPARKS