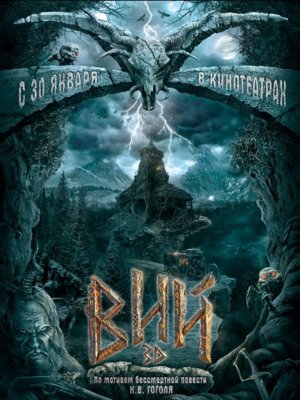 Wij / Viy (2014) PLSUBBED.BRRip.XviD-BiDA
OPIS: Angielski kartograf podczas wyprawy na wschód Europy trafi na zapomnianą wioskę w ukraińskich lasach, której mieszkańcy są bardzo specyficzni."Wij" to rosyjski horror oparty na opowiadaniu Mikołaja Gogola o legendarnym stworze Wij, który uśmiercał spojrzeniem. Produkcja filmu zaczęła się w 2005 roku i została przerwana ze względu na brak finansów. Obraz filmowy opowiada historię angielskiego kartografa Jonatana Greena, który w XVIII wieku podjął się wyprawy naukowej z zachodniej Europy na Wschód. Po przejściu Transylwanii i Karpat znalazł się przez przypadek w małej, zapomnianej przez ludzi wiosce na Ukrainie.
PLOT: Early 18th century. Cartographer Jonathan Green undertakes a scientific voyage from Europe to the East. Having passed through Transylvania and crossed the Carpathian Mountains, he finds himself in a small village lost in impassible woods. Nothing but chance and heavy fog could bring him to this cursed place. People who live here do not resemble any other people which the traveler saw before that. The villagers, having dug a deep moat to fend themselves from the rest of the world, share a naive belief that they could save themselves from evil, failing to understand that evil has made its nest in their souls and is waiting for an opportunity to gush out upon the world.
127 min – Adventure | Fantasy | Mystery
Director: Oleg Stepchenko
Writers: Nikolai Gogol (story), Aleksandr Karpov (script) »
Stars: Viktor Bychkov, Emma Cerná, Aleksey Chadov
produkcja: CzechyNiemcyRosjaUkrainaWielka Brytania
premiera: 23 stycznia 2014 (świat)
Wij / Viy (2014) PLSUBBED.BRRip.XviD-BiDA
http://justpaste.it/wij-2014-plsubbed-brrip