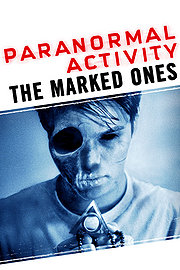 Paranormal Activity: Naznaczeni / Paranormal Activity: The Marked Ones (2014)
GATUNEK: horror, LEKTOR.PL
OPIS FILMU – Paranormal Activity: Naznaczeni – amerykański horror z 2014 r. w reżyserii Christophera B. Landona. Film jest kontynuacją Paranormal Activity 4, piątym z kolei obrazem filmowej serii zapoczątkowanej w 2007 roku.
Historia rozpoczyna się w czerwcu 2012 roku na przyjęciu w Oxnard w Kalifornii. Gdy w mieszkaniu umiera kobieta, Jesse i jego znajomi postanawiają rozwikłać sprawę za pomocą kamery. Z czasem odkrywają coraz więcej rzeczy związanych z rytuałami czarnej magii, a nawet brakującą kasetę z Paranormal Activity 3. Zaczyna też dochodzić do niewytłumaczalnych zjawisk. Niedługo potem Jesse odkrywa na swojej ręce dziwny znak. Nie wie, że pozostawił go demon, który zamierza przejąć nad nim kontrolę.
PLOT: In Oxnard, California, the teenager Jesse graduates high-school and buys a camera in the pawnshop. Jesse lives in an apartment on the second floor of a small residential building with his father and grandmother and in the floor below lives Anna who people used to say that is a witch. Jesse has two friends in the building, Hector and Marisol. When Anna is found dead in her apartment, the prime suspect is Jesse's schoolmate Oscar who had just left her apartment. Jesse, Hector and Marisol snoop around Anna's apartment and soon they find a sort of altar with photos of Oscar and Jesse. Then Jesse changes his behavior and soon they discover that Jesse was marked by evil witches. Will Hector and Marisol save Jesse from evil?