Tokarev (2014)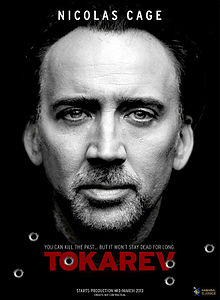 Gatunek.: Kryminał, Thriller, Akcja,
LEKTOR.PL
OPiS: Kiedy rosyjska mafia porywa córkę byłego kryminalisty, mężczyzna zbiera swoją starą ekipę i wymierza sprawiedliwość porywaczom.
PLOT: Paul Maguire (Nicolas Cage) and his buddies Kane (Max Ryan) and Doherty live a life of crime. One night, they ambush a Russian mobster, intercepting him when he's on his way to drop off money to his boss. The take is much larger than they imagined; along with a Russian gun called a Tokarev, they get away with a briefcase full of cash. It's enough for Paul to leave the life of crime and go legit, but their crime sets off a bloody protracted war between their Irish crime family and the Russian mob. Paul instructs his friends to hide the money until things calm down between their outfit and the Russians. In spite of several casualties on both sides, their plan works well; five years after stealing the money, Paul, Kane and Doherty meet to split up the take.
Paul uses his share to slowly build a legitimate construction empire in Mobile, Alabama. He marries a beautiful, ambitious woman named Vanessa and is a doting father to his teenage daughter Caitlin. His former mob boss, O'Connell has allowed him to go legit, but he remains friends with his former buddies who haven't had his luck when it comes to reforming. One night Paul and Vanessa are heading to a charity dinner, leaving Caitlin at home to hang out with her friends Evan and Mike. At the dinner, a detective approaches Paul, who is used to being hassled for his former life of crime. But the Detective isn't hassling him; something has happened to Caitlin.
Evan and Mike tell the police and Paul that they were watching TV with Caitlin, when several Russian men barged in and took her. They fought – but the Russians overtook Mike and Evan. Convinced the kidnapping is long-overdue retaliation for the crimes of his youth – specifically his run-in with Ivan, Paul ignores the police and mounts his own investigation.
Paul and his buddies shake down and rough up anyone they can find who might be connected to Chernov, the legendary mob boss whose money they stole seventeen years earlier. O'Connell pleads with Paul to stop his rampage, but he refuses. Vanessa, who initially backed her husband's search, now fears he's becoming the killer he once was. But there exists another possibility: perhaps he has always been a violent man and can never truly leave that life behind.
Set and filmed in Mobile, Alabama.
Director: Paco Cabezas
Writers: Jim Agnew, Sean Keller
Stars: Nicolas Cage, Jack Falahee, Max Lloyd-Jones, Aubrey Peeples
PL BRRip ★
http://notepad.cc/tokarev-2014-pl-brrip-xvid-mins
BRRip
http://justpaste.it/Tokarev-2014-BRRip-EB
BRRIP
http://180upload.com/icpw9ezi9boy