Walk of Shame / Dzień z życia blondynki (2014)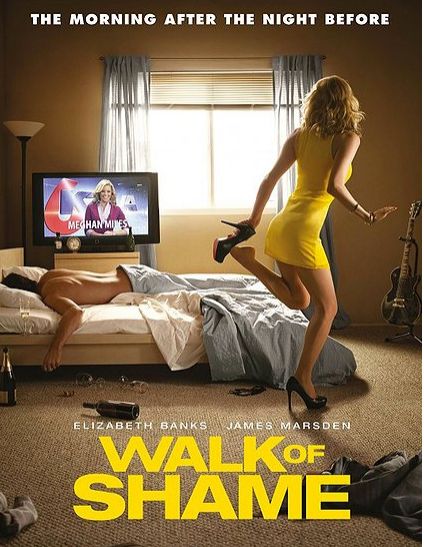 Gatunek: Komedia, LEKTOR.PL
OPIS FILMU: Po upojnej nocy Meghan budzi się na przedmieściach Los Angeles. Nie ma telefonu, pieniędzy i dokumentów tożsamości. Na domiar złego dziewczyna ma osiem godzin, by przygotować się i dotrzeć na rozmowę kwalifikacyjną w sprawie pracy w wiadomościach telewizyjnych.
PLOT : Meghan Miles, a newscaster for local Los Angeles TV affiliate KZLA6, is rejected for an anchor position with a network news program in favor of someone with an Asian last name.
Having made prior plans with her friends Rose and Denise to go clubbing, Meghan ends up highly intoxicated and is invited to join a group of men in a booth. When one of the men invites her to leave with him, she instead leaves on her own, only to become trapped on a fire escape. She's rescued by Gordon, a part-time bartender at the club and a romantic fiction writer. Meghan ends up going home with Gordon and awakens later in bed with Gordon wearing only her undergarments.
Meghan slips out of his apartment and witnesses her car being towed away with her purse inside. Looking for a way home, she startles a sleeping taxi driver who mistakes her request to take her to the impound lot as directions to a strip club. Having no money, the driver demands lap dances as payment and Meghan runs off. She ends up at The Point where Officers Dave and Walter interpret her flagging down cars for help as solicitation, and issue her a warning.
Meghan continues on where she encounters a crack dealer named Scrilla, whom she chases back to his crack house when police officers ambush them on the street corner. At the crack house, she meets Scrilla's friends Hulk and Pookie. When a rival gang attacks the crack house, Pookie escorts Meghan out through a drain pipe and they make a run for it. Before parting ways, Pookie gives her $10 worth of crack that she can hopefully sell or trade for the cash she needs to get home.
After attempting to peddle the crack to a rival dealer, Meghan escapes on a city bus and manages to travel several blocks without paying the fare before the bus driver sprays mace in Meghan's eyes and ejects her from the bus.
After flushing her eyes out from a spigot, she steals a teenager's bicycle from the public library and heads towards the freeway until Officers Dave and Walter, along with the bike owner, track her down. She eludes the police and, stealing a pair of shoes, sprints to Interstate 10, where she crosses just as the traffic returns after an interruption from road construction.
She makes it to the impound lot, only to be denied by the clerk. Sneaking into the gate behind a tow truck, she gets into her car only to find that her purse has been stolen. Distraught, she steals her own vehicle but fails to make it out of the lot when the spike strips blow out all four of her tires, and the gate shuts, wedging her vehicle.
Gordon, Rose and Denise arrive in time, giving her a ride back to the station. However, the "Carpocalypse", previously reported on by Meghan for causing massive traffic congestion on LA freeways, stops their journey short. Meghan calls KZLA's traffic reporter who arrives in his helicopter to pick her up and deliver her to the station.
She arrives in time to go on air, only to find out she's reporting on her own escapades from the night before. Deciding to set the record straight, she clarifies on all of the misunderstandings and stands up for her actions. The network executives appreciated what they saw and pitch a reality show to her which she holds out on and departs with Gordon.
6-6-2020
PL BRRip 
douploads.net/1u37sz99h950

mirr.re/d/2QpP

file-upload.com/qfhus3cci6pi

getvi.tv/video/305725/walk-of-shame-2014/
[collapse]