Tarzan / Tarzan. Król dżungli

 (2013) DVDRip XViD AC3-BL4CKP34RL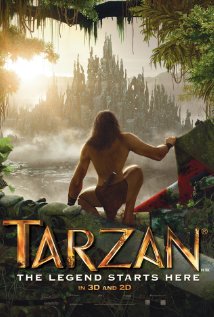 OPIS: Jeden z najsłynniejszych bohaterów dziecięcej wyobraźni powraca! Zrealizowana z wielkim rozmachem animowana opowieść o niezwykłych przygodach chłopca wychowanego przez zwierzęta w samym sercu egzotycznej dżungli. Sympatyczna małpa Kala znajduje w dżungli opuszczone ludzkie niemowlę. Mimo początkowej nieufności stada, postanawia zaopiekować się dzieckiem. Chłopiec dorasta pod okiem górskich goryli jako jeden z nich, powoli ucząc się praw dżungli. Pod ich opieką wyrasta na silnego młodego mężczyznę znanego jako Tarzan. W wieku 14 lat po raz pierwszy spotyka innego człowieka: Jane Porter, piękną i odważną nastolatkę odwiedzającą Afrykę ze swoim ojcem. Ten dzień na zawsze zmieni życie chłopaka. Zapragnie zrozumieć kim jest, a przede wszystkim znów spotkać niezwykłą Jane. Nie spodziewa się, że wkrótce jego czworonożni przyjaciele znajdą się w niebezpieczeństwie przed, którym tylko on będzie mógł ich obronić.
PLOT: A teenage boy raised by gorillas in Africa falls for a pretty conservationist following a chance meeting in the jungle, but finds their romance threatened by a menacing Silverback, and a scheming capitalist in search of a new energy source in this animated adaptation of Edgar Rice Burroughs' classic tale. John Greystoke, Jr. was just a toddler when he accompanied his adventurous mother and father on a journey into Africa in search of a mineral that could revolutionize the energy industry. That trip turns tragic, however, when their helicopter crashes in a race to escape a massive storm, leaving young John the sole survivor. Raised from that day forward by a motherly gorilla named Kala, the boy, now named Tarzan, quickly integrates into the family of primates. But alpha male Silverback Tablat refuses to accept Tarzan's presence, viewing him as a direct threat to the clan. Nearly a decade later, Tarzan encounters beautiful Jane Porter, and begins to long for human contact. When Jane returns to the jungle accompanied by smooth-talking entrepreneur William Clayton a few years later, her relationship with Tarzan is rekindled. But while Clayton has ostensibly come to the jungle to support Jane's conservationist endeavors, he's actually searching for the very same energy source once sought by Tarzan's father, and hopes to turn a tidy profit by exploiting the precious resource. The situation turns critical when Jane recognizes Clayton's true intentions, and the only one who can save her from both the villainous industrialist and the menacing Tablat is the noble Tarzan of the apes.
Director: Reinhard Klooss
Writers: Reinhard Klooss (screenplay), Jessica Postigo (screenplay) »
Stars: Kellan Lutz, Robert Capron, Spencer Locke
Tytuł.: Tarzan / Tarzan. Król dżungli
Produkcja.: Niemcy
Gatunek..: Animacja, Familijny, Przygodowy
Czas trwania..: 88 min.
Premiera.: 01.08.2014 – Polska, 17.10.2013 – Świat
Tarzan / Tarzan. Król dżungli

 (2013) DVDRip XViD AC3-BL4CKP34RL

http://notepad.cc/tarzan-2013-dvdrip-xvid-ac3-bl4ckp34rl
Tarzan 2013 BRRIP x264 AC3 CrEwSaDe – Opublikowano: 15 maj 2014