Młody mistrz / The Young Master (1980)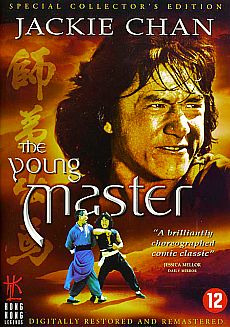 Genre: Akcja | Komedia, sztuki walki, LEKTOR.PL
OPiS FILMU: Główny bohater filmu Jackie poszukuje swojego brata. Jednak zostaje przypadkowo wzięty za niebezpiecznego zbiega. Musi teraz walczyć z łowcami głów, policjantami, a także poszukać prawdziwego zbiega aby oczyścić swoje dobre imię…
PLOT: The school attended by Dragon (Jackie Chan) and his brother, Tiger (Wei Pei) is entered against a rival school in a Lion Dance competition. The school needs to win the prize money to remain open but their star performer, Tiger, is seemingly injured when he falls from a ladder, leaving his brother, Dragon, to take his place. During the competition, Dragon realizes that his brother feigned his accident in order to take part in the competition for the rival school.
The rival school wins the competition, but the truth emerges about Tiger's betrayal and he is exiled in disgrace. Dragon vows to bring back his errant brother so the pair can make amends to their master. Dragon sets off on his mission, but en route is mistaken for a criminal known as The White Fan by local police chief, Sang Kung (Shih Kien). Meanwhile, Tiger collaborates with his employers (the rival school) by freeing a dangerous criminal known as Kam (Hwang In-Sik). However, Tiger is later framed for a bank robbery. To stop his brother from being arrested, Dragon promises to apprehend the escapee, Kam.
The movie ends with a furious, brutal fight between Kam and Dragon, in which Dragon sustains substantial damage. At the beginning of the fight, it appears that Kam has the upper hand as he punishes Dragon with blindingly fast punches and kicks. However, after consuming water from an opium pipe given to him by a whimsical old man, Dragon becomes energized and defeats Kam. The movie ends with Dragon returning to his hometown, a hero (albeit one in full body cast from the many injuries he sustained).