Jai Ho (2014) BDRip.x264-FiCO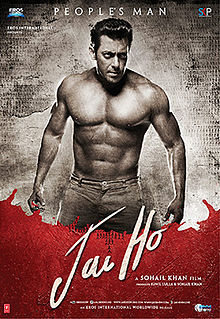 OPIS: Były wojskowy oficer rozprawia się z przestępczością na własną rękę. Jego pomysł związany z rozpowszechnianiem odpowiedzialności społecznej wśród zwykłych ludzi napotyka na niespodziewaną niechęć ze strony politycznie wpływowej rodziny.
PLOT: Jai Ho is a 2014 Indian Hindi action drama film directed by Sohail Khan and produced by Sohail Khan along with Sunil Lulla, starring Salman Khan, Tabu and newcomer Daisy Shah in major roles along with Sunil Shetty (cameo) and Genelia D'Souza (cameo). The film has Tabu playing Salman's sister while Danny Denzongpa plays the main antagonist.The basic premises of the plot has been inspired from Pay it Forward and Telugu Film Stalin directed by A. R. Murugadoss. It received polarised reviews from critics.
Jai (Salman Khan), an ex-army officer, likes helping people and beats criminals single-handedly. He was a major in the Indian Army, but was suspended because of a disciplinary action after he ignored the orders of the high command and went ahead to rescue a bunch of children from terrorists. He now lives with his mother (Nadira Babbar) as well as his sister Geeta (Tabu), the two of which are not on speaking terms with each other since Geeta married a Muslim man against her mother's wish.
Jai once helped a physically disabled girl, Suman (Genelia D'Souza) to write her examination, but on another day, during one of her other examinations, no one turned up to help, despite her persistent begging. Depressed, Suman commits suicide. Disturbed by this incident, Jai feels that unlike himself, people don't help others and hence plans to start a chain system that works on the concept that everyone should help three people and should ask them to help three more people and so on. Jai believes that this chain will help develop a better attitude among the people but faces disappointment.
One day, Jai beats a rich man who injured a child beggar. To take revenge, the rich man employs some goons who take Jai's sister Geeta and friend Rinky (Daisy Shah) into their custody. Jai saves them and breaks the hand of a goon who happens to be the henchman of an MLA (Mukul Dev), who is also the son-in-law of Home Minister Dashrat Singh (Danny Denzongpa).
The Home Minister takes it as a prestige issue and tries to avenge Jai by kidnapping his nephew but loses his son-in-law (Mukul Dev) in the process. When the Chief Minister Ashok Pradhan (Mohnish Bahl) comes to know about Jai's concept, as his own life was been saved by a school girl, he intervenes to bring in a patch-up between Jai and Dashrat Singh. Instead, Dashrat Singh plans to kill him and frame Jai in the murder. But Jai runs away with the injured Chief Minister and saves him. Dashrat Singh's son Arjun Singh (Haroon Qazi) along with his goons attack Jai. Jai kills him but gets severely injured after getting hit by a knife that was punched in his back by Dashrat's daughter (Sana Khan) before he killed Arjun. A rickshaw driver (Mahesh Manjrekar) and army officer and former colleague Arjun Kaul (Sunil Shetty) help him to get to the hospital. Meanwhile, Dashrat Singh spreads the rumour in the media that Jai was responsible for trying to kill the Chief Minister but finally the Chief Minister recovers and reveals the truth leading to a crowd beating Dashrat Singh. Finally, the doctors successfully save Jai. Jai comes to know that his help-three-people concept worked well and the same concept saved his life. He walks out of the hospital to find thousands of people waiting for him and he thanks them all for making his concept a success.
Director:  Sohail Khan
Writers:  A.R. Murugadoss (story), Dilip Shukla (screenplay)
Stars:  Salman Khan, Tabu, Sunil Shetty
Tytuł..: Jai Ho
Produkcja..: Indie
Gatunek: Komedia, Akcja
Czas trwania..: 140 min.
Premiera.: 24.01.2014 – Świat
Jai.Ho.2014.BDRip.x264-FiCO
span class="itemprop"