Mindscape / Anna (2013)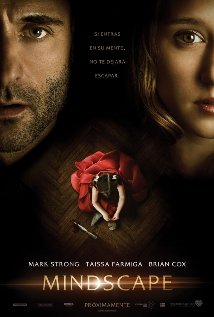 Gatunek..: Thriller, LEKTOR.PL
OPIS: John, posiadając zdolność widzenia cudzych wspomnień, zajmuje się sprawą genialnej nastolatki, Anny.
PLOT: Mindscape, also known as ANNA, is a Spanish-American psychological thriller film and the debut feature of Spanish filmmaker Jorge Dorado The film stars Taissa Farmiga as Anna, Mark Strong as John Washington, and Brian Cox. The plot centers on John, a detective with the ability to enter peoples' memories, takes on the case of a brilliant but troubled and dangerous 16 year old girl, Anna, to determine whether she is a sociopath or a victim of trauma.
The film's script was written by Guy Holmes. The film was produced by Ombra Films, a production company formed by Jaume Collet-Serra and Juan Solá in partnership with The Safran Company, Antena 3 Films and the participation of Televisió de Catalunya. StudioCanal handles the film's distribution and aimed at generating English language thriller, horror and fantasy films via emerging Spanish talent.
The world premiere was held at the 46th Sitges Film Festival on October 13, 2013 receiving critical acclaim from audiences in its native Spain and Warner Bros. released the film in Spain on 24 January 2014. The film opened at the Festival international du film fantastique de Gérardmer and at the Glasgow Film Festival. The film will celebrate its North American Premiere at the Dallas International Film Festival on April 5 [10] and a re-titled version of the movie simply named ANNA will be distributed via Vertical Entertainment on June 6, 2014. The film was released onto Video on Demand on May 6, 2014.
John Washington (Mark Strong) is a recently widowed man with the ability to enter people's memories. In the past, John used his abilities to solve criminal cases, but after a stroke during a session gone wrong that leaves him incapacitated and financially broken, he is left a shell of his former self. Desperate for an assignment, John asks his superior, Sebastian (Brian Cox), for a new job. The case he receives is that of a brilliant but troubled and dangerous 16 year old girl, Anna (Taissa Farmiga), to determine whether she is a sociopath or a victim of trauma. Anna, the daughter of wealthy parents, has gone on a hunger strike, and while John enters her mind to find out why, disparate memories overlap, and it is possible than Anna is not as innocent as she seems. While the parameters of the job seem quite simple, Anna proves to be much more challenging than John expected. She's intelligent, insightful…and possibly one of the most conniving and manipulative people that he's come across in his career. Trouble is, the investigator has his own unresolved traumas and the girl may be playing him, presenting false memories.
PL BDRip

https://app.box.com/s/ohqeczo4vjkgmmdnblsl4iniemprbh1f
BDRip