Not Safe for Work (2014)  PL.
BRRip

.XViD-MORS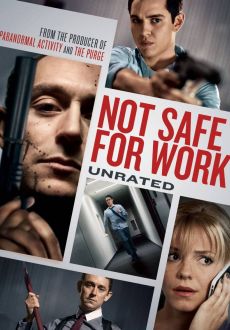 OPIS: Bohaterem filmu jest asystent w kancelarii prawniczej. Pewnego dnia odkrywa, że jest sam na sam w biurze z zabójcą, który chce przechwycić i zniszczyć dokumenty dotyczące pewnej korporacji.
PLOT: Captain America's Joe Johnston heads into low-budget territory with this claustrophobic thriller surrounding a young lawyer (Max Minghella) who's life is in jeopardy when he becomes trapped in an office with a killer out to harm his company. Johnston directs from a script by Adam Mason and Simon Boyes.
Director: Joe Johnston
Writers: Simon Boyes (screenplay), Adam Mason (screenplay)
Stars: JJ Feild, Eloise Mumford, Max Minghella
Tytuł..: Not Safe for Work
Ocena.: IMDB – 6/10 (357)
Produkcja.: USA
Gatunek.: Thriller
Czas trwania.: 71 min.
Premiera.: 09.05.2014 – Świat
Not Safe for Work (2014)  PL.BRRip.XViD-MORS