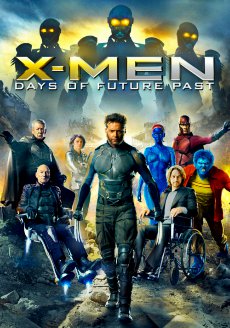 X-Men: Days of Future Past / 

X-Men: Przeszłość, która nadejdzie (2014)

 
GATUNEK: Akcja ,Przygodowy , Fantasy , Sci-Fi  | DUBBING PL
OPIS FILMU: X-Men: Przeszłość, która nadejdzie (ang.: X-Men: Days of Future Past) – amerykański film science fiction z 2014 roku w reżyserii Bryana Singera. Siódmy film osadzony w świecie X-Men. Produkowany przez 20th Century Fox, inspirowany komiksem pt.: Days of Future Past z 1981 r., stworzonym przez Chrisa Claremonta i Johna Byrne'a. Film łączy dwie serie o X-Menach: ukazuje młode wersje Profesora X i Magneto granych przez Jamesa McAvoya i Michaela Fassbendera oraz ich starsze odpowiedniki w osobach Patricka Stewarta i Iana McKellena. Akcja filmu rozgrywa się mniej więcej 10 lat po wydarzeniach z Pierwszej klasy oraz około 10 lat po Ostatnim bastionie.
PLOT:  In a dystopian future, sentient robots known as Sentinels are exterminating mutants and oppressing humans, since humans harbor the genes that lead to mutant offspring. A small band of mutant survivors manage to evade the Sentinels thanks to the powers of Kitty Pryde, who has the ability to project a person's consciousness back in time to deliver warnings.
Kitty's group rendezvous with Magneto and Professor Charles Xavier in a monastery in China. They hatch a plan to send Wolverine's consciousness back in time to prevent Mystique from murdering Bolivar Trask, the lead designer of the Sentinels. Trask's assassination will make him a martyr, Mystique will be captured and her mutant powers will be reverse-engineered and used to create the formidable Sentinels of the future. A caveat of the plan is that they will have to stand and defend Wolverine and Kitty until Wolverine finishes his trip to the past and returns, otherwise the changes he made to the timeline will be lost.
Wolverine wakes up in 1973 in his younger body. He travels to the X-Mansion, where he encounters the young Hank McCoy and a disheveled Xavier. His school has failed and most of his original X-Men are dead, and this has left him a broken man. He has also lost his telepathic powers through taking serum which allows him to walk again. Wolverine convinces Xavier to free Magneto — who was accused of murdering John F. Kennedy (a charge he denies, stating that Kennedy was himself a mutant) — from a prison cell beneath The Pentagon. They do this with the help of Peter Maximoff, a mutant who can move blindingly fast.
Trask unsuccessfully lobbies to Congress for approval for his Sentinel program. Meanwhile, in Saigon, Mystique prevents a young William Stryker from appropriating a group of mutant American GIs, including Havok, for Trask's research. Mystique investigates Trask Industries and discovers he has been capturing and experimenting on mutants, including some of her old comrades. Knowing that the assassination of Trask occurs in Paris, Xavier and Magneto board a private plane with Beast and Wolverine in order to intercept Mystique, although the two argue over abandoning each other.
In Paris, the Americans and Vietnamese are negotiating the end to the Vietnam War. Mystique impersonates a Vietnamese general to infiltrate a meeting with Trask. As she is about to kill Trask, Wolverine, Xavier, Magneto and Hank arrive. To guarantee her powers can never be used for the Sentinels, Magneto tries to kill Mystique, who flees out a window. A fight on the street ensues, in front of onlookers and television cameras. Wolverine's upsetting encounter with Stryker causes his future body to react violently and injure Kitty.
Although Trask is saved, the world is horrified by the existence of mutants. President Richard Nixon approves Trask's Sentinel program and arranges an unveiling in Washington, D.C. Trask's scientists recover Mystique's blood from the battle site in Paris, and Magneto fears Trask could still create the future Sentinels. Magneto intercepts the Sentinel prototypes on their way to Washington and laces them with steel. At the mansion, Xavier eschews his regular serum dose to regain his powers. Through Wolverine, Xavier communes with his future self and is inspired to struggle for human-mutant peace once again. He uses Cerebro to track Mystique en route to Washington.
Nixon unveils the Sentinel prototypes on the White House lawn. As a show of force, Magneto raises RFK Stadium and deposits it around the White House. He also commandeers the Sentinels and has them attack the crowd. Nixon and Trask are taken to a safe room, followed by a disguised Mystique. Xavier, Wolverine, and Beast try to stop Magneto. Magneto impales Wolverine with rebars and flings him into the Potomac River. In 2023, the X-Men make their final stand as the Sentinels assault the monastery.
Pulling the safe room out of the White House, Magneto aims the television cameras at himself and prepares to kill the President with the whole world watching. Disguised as the President, Mystique wounds him with a plastic gun and reveals her true form. Xavier persuades Mystique not to kill Trask and allows her and Magneto to flee. Mystique's interference is seen as a Mutant rescue of the president; the Sentinel program is cancelled and Trask is arrested for selling military secrets to foreign governments. Back in 2023, the Sentinels break in and are close to firing upon Shadowcat, Professor X, Wolverine, and a wounded Magneto but all disappeared.
Wolverine wakes up in 2023 in Xavier's school, where he finds the X-Men all alive and well, even Jean Grey and Scott Summers. Logan asks Xavier to fill him in on the 40 years that he has missed out on, stating that the history he knew was a different one. In 1973 Stryker, pulling an erased memory Logan out of the water being asked by officers what to do with him, believing that he will be tested where Logan gets his adimantium skeleton, Stryker turns away as his eyes turn yellow showing that it's actually mystique.
In a post-credits scene, a cloaked figure telekinetically assembles the Pyramids of Giza as four horsemen stand behind him and a throng of worshipers chants his name: En Sabah Nur
The ultimate X-Men ensemble fights a war for the survival of the species across two time periods in X-MEN: DAYS OF FUTURE PAST. The beloved characters from the original X-Men film trilogy join forces with their younger selves from 'X-Men: First Class,' in an epic battle that must change the past — to save our future.
The X-Men send Wolverine to the past in a desperate effort to change history and prevent an event that results in doom for both humans and mutants.
[imdb id="tt1877832″]