Tracks (2013)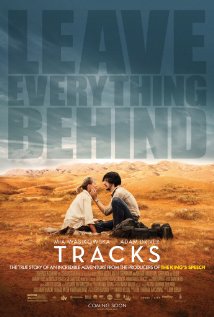 Gatunek.: Biograficzny, Dramat
OPIS: Młoda kobieta wyrusza z Alice Springs nad Ocean Indyjski. Ma do pokonania 2,7 tys. km przez australijską pustynię, a towarzyszą jej 4 wielbłądy i wierny pies.
PLOT: Tracks is a 2013 Australian drama film directed by John Curran and starring Mia Wasikowska and Adam Driver. It is an adaptation of Robyn Davidson's memoir of the same name, chronicling the author's nine-month journey on camels across the Australian desert. It was shown at the 2013 Toronto International Film Festival (Special Presentation) and the 70th Venice International Film Festival 2013 (in Official Competition). It was the opening film at the Adelaide Film Festival on 10 October 2013. This was the Australian premiere. The film has also been shown at several other film festivals, including London, Vancouver, Telluride, Dubai, Sydney OpenAir, Dublin and Glasgow.
In 1977, Robyn Davidson travels from Alice Springs across 2,700 kilometres (1,700 miles) of Australian deserts to the Indian Ocean with her dog and four camels. National Geographic photographer Rick Smolan documents her journey.
Director: John Curran
Writers: Marion Nelson (screenplay), Robyn Davidson (book)
Stars: Mia Wasikowska, Adam Driver, Emma Booth
Tytuł.: Tracks
Ocena.: IMDB – 7.3/10 (1301), Filmweb – 7.3/10 (79)
Produkcja: Australia, Wielka Brytania
Czas trwania..: 110 min.
Premiera..: 29.08.2013 – Świat
Tracks 2013 HDRip x264 AAC-CPG