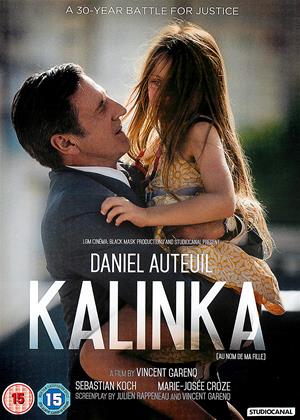 SPRAWA KALINKI / AU NOM DE MA FILLE (2016)
GATUNEK: Dramat  ▶LEKTOR PL◀
OPIS FILMU:  Film Vincenta Garenqa oparty jest na prawdziwych wydarzeniach. Andre Bamberski (Daniel Auteuil) stara się wyjaśnić sprawę śmierci swojej córki Kalinki, która zginęła w niepokojących okolicznościach. Bamberski był przedsiębiorcą wiodącym zwykły żywot. Został on całkowicie odmieniony przez to tragiczne wydarzenie. Ojciec dziewczynki przez 27 lat prowadził śledztwo, by odnaleźć domniemanego zabójcę Kalinki, stosując przy tym metody balansujące na granicy prawa. W końcu udaje mu się schwytać mordercę i doprowadzić go przed oblicze sprawiedliwości.
PLOT: Kalinka Bamberski, a French teenager, dies in 1982 in the house of her German stepfather, Dieter Krombach, a doctor. Suspicious autopsy results cause the girl's French biological father André Bamberski to pressure German authorities into investigating Krombach's involvement in the death. When the case is closed and extradition to France denied, Krombach is tried in absentia in France and convicted of involuntary manslaughter in 1995, a verdict later overturned on procedural grounds.
In 2009 Bamberski has Krombach abducted to France where he stands trial, and is convicted and sentenced to 15 years in prison.