Going Our Way 2 (2013) DVDRip x264-PLANiNA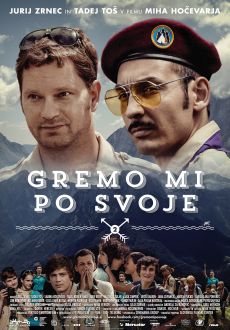 OPIS: Grupka licealistów wybiera się na obóz harcerski. Na miejscu okazuje się, że dziewczyny i chłopacy zostali ulokowani w innych miejscowościach. Młodzi bohaterowie nie zamierzają jednak dać się rozdzielić.
PLOT: Going Our Way 2 follows the adventures of young scouts spending summer at a camp in the middle of the idyllic Slovene Alps. Because the heroes from the first film, Aleks, Jaka and Sleepyhead, are almost grown up now, the scout leader charges them with new responsibilities and assignments that also involve taking care of a group of mischievous 10-year-olds, which proves to be quite a feat. sequel of Going Our Way.
Director: Miha Hocevar
Writer: Miha Hocevar
Stars: Jurij Zrnec, Tadej Tos, Tadej Koren Smid
Tytuł.: Going Our Way 2 / Gremo mi po svoje 2
Produkcja..: Słowenia
Gatunek..: Komedia, Przygodowy
Czas trwania..: 94 min.
Premiera..: 07.11.2013 – Świat
Going Our Way 2 (2013) DVDRip x264-PLANiNA