Cleanskin / Terrorysta  (2012)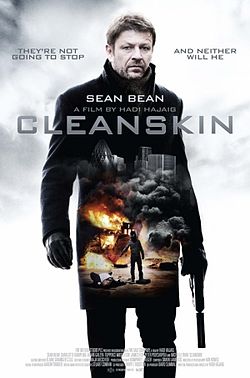 gatunek: Kryminał, Thriller, LEKTOR.PL

OPIS: Ewan (Sean Bean) jest tajnym agentem brytyjskich służb specjalnych, który pracując w charakterze ochroniarza jednego z handlarzy bronią musi dotrzeć do jego ostatecznych odbiorców. Podczas napadu na handlarza zostaje skradziony semtex, a kilka dni później zamachowiec samobójca wysadza się w powietrze w jednej z londyńskich restauracji. Służby specjalne dowodzą, że w Londynie działa niezidentyfikowana siatka terrorystyczna, która zamierza zniszczyć stolicę Wielkiej Brytanii. Celem Ewana staje się nieznany dotąd agencji, określany w służbowej nomenklaturze jako "cleanskin" – zdesperowany i bezwzględny terrorysta, mózg całej operacji. Jego i pozostałych członów organizacji, Ewan ma wyeliminować w sposób ostateczny.
PLOT: Ewan (Sean Bean) is a top Secret Service Agent doing bodyguard work for a man named Harry (Sam Douglas). Ewan and Harry go to a building where they are followed by two terrorists, Ash (Abhin Galeya) and Paul (Tariq Jordan). Ash goes into the building where he kills a woman and shoots Ewan several times. It turns out that Harry is in possession of Semtex explosives which the terrorists are after for a suicide bombing. Harry tries to shoot Ash, only to discover there are no bullets in his gun, and then is killed by him. Ash then is shot by Ewan, but was able to wound Ewan causing him to pass out. Ash then escapes with the briefcase full of Semtex explosives.
One of Ash's friends, Paul (Tariq Jordan) designs a jacket containing a bomb, which he gives to one of their associates, Adel (Shane Zaza). Adel goes to a popular restaurant where he detonates the bomb during busy lunch hour. It is revealed that a large meeting was held at the time by an organization called "2004 committee." This organization has middle east energy interests, supports the Iraq wars and has 3 MPs as members, who are among the casualties. Ewan goes to work where his boss Scott (James Fox), head of the Secret Service, fires him for losing the Semtex. However, Charlotte (Charlotte Rampling), his closest superior, puts him on an unofficial mission to find the terrorist cell that created the bomb. He is to use any mean possible to stop further bombing and to keep it low profile. He is given an assistant, rookie Secret Service agent Mark (Tom Burke), who is a perfect shot. Ewan suspects that a prostitute named Rena (Shivani Ghai), who slept with Harry the day he died, took out the bullets in Harry's gun during her visit. Ewan beats Rena for information. She tells Ewan and Mark that one of her regulars, Paul, wanted to know information about Harry. Paul also instructed Rena to empty Harry's gun as a practical joke. Rena was forced to bring them to Paul's house and to act as a distraction so Ewan and Mark can get in. To the unsuspecting Paul, she pretends she needed money and thus offers her service. While the two are at it in the kitchen, Ewan and Mark sneak in and then try to catch Paul. When Paul sees them holding guns, he stabs Rena and tries to escape. Paul tries to escape with a bomb-containing jacket but is stabbed in the hand and shot by Ewan in the head.
Ash is at a cafè where he sees a woman named Kate (Tuppence Middleton) and they exchange numbers. A series of flashbacks are shown from eight years ago, where it is revealed that Ash and Kate were dating at university, where they studied law. Ash is introduced to Nabil (Peter Polycarpou), a Muslim extremist who quickly befriends Ash and asks him to join his group. Ash and his friend, Yussif (Chris Ryman), join the group and are brainwashed by Nabil into believing that everyone who isn't Muslim is evil and that they should become terrorists. Later that night, Ash is at the university bar and sees Nick (Chris Geere), one of his rivals, trying to hit on Kate. Ash forces Kate to go, but they have an argument ending with Kate apologizing for her action. The next day in a bar, Ash runs into Nick, who insults him and Kate. Ash gets fed up with Nick and punches him before Nabil pulls him away from the scene. Ash goes to his apartment and breaks up with Kate.
In the present day, Ewan and Mark receive new information: a cellphone owned by deceased Paul points them to an abandoned building. They see a man (Jeetandra Lathigra) with a jacket and Ewan assumes he is a suicide bomber. Ewan interrogates the man at gunpoint while the man begs for mercy, insists he knows nothing and says that he is just like Ewan. Ewan doesn't listen and sets him on fire after he attempts to fight back, leaving him to burn to death. When Ewan finally finds the man's jacket, which has no bomb, he realizes he just killed an innocent man. Charlotte tells Ewan the man's name is Hussein Malik, an English citizen, and comforts Ewan that it was simply a careless mistake. A series of flashbacks cut to three years earlier, where Nabil tells Ash that his next target is Sgt. Glen Conlan (Glenn Wrage), an ex-soldier who tortured Muslims in Afghanistan, living alone on a farm. Nabil sends his best friend, the emotionless, violent Amin (Silas Carson) to help Ash and Yussif kill him. They go to Conlan's farm, where Yussif follows him to the barn, but is stabbed in the face. Ash chases him to the house and knocks him unconscious. Conlan is then kidnapped by Amin. Ash looks in a room and is shocked to see a woman with a baby, revealed later to be Conlan's sister and nephew. He tries to protect them by lying to Amin about not finding anyone else in the house. However, Amin becomes suspicious and eventually finds and brutally kills them. Ash and Amin take the badly wounded Conlan to an abandoned building where Ash films Amin beheading Conlan and setting his dead body on fire. Ash is shown emotionally shaken by the brutality and the lack of remorse exhibited by Amin towards the woman and baby and the fact that Conlan was only in the reserve. Nabil keeps on brainwashing Ash and talks Ash into going to Afghanistan to receive further training and to experience the pain inflicted on Muslims by the western world.
Back in the present, Ash and Kate get back together after they bond over break-ups. Nabil tells Ash that the police found Conlan's body, but cannot identify him, due to the disfiguration. He also tells Ash that an American Senator, whose daughter is marrying an Englishman, is his next target. Ash is shown struggling with his feelings for Kate against his sense of obligation for his Muslim beliefs. He chooses his suicide mission and leaves Kate.
Ewan and Mark arrive at a housing estate to look for the next suspect, just as Ash and an unknown man are leaving for their destination. Ewan and Mark spot the unknown man and Mark chases after and kills him. Ewan realizes Ash is also involved but not before he gets away on a motorcycle. Ewan is sleeping in a hotel when Mark tries to kill him. Ewan gains the upper hand and stabs him with a pocket knife, but when Mark refuses to tell Ewan who sent him, he shoots Mark in the head. Ewan realizes that the man Mark killed wasn't a terrorist and that Ash is planning a bombing. Ewan spots Ash in the kitchen at the hotel where the wedding is. They have a fight but Ash escapes with a wounded leg. Ash manages to limp his way to the reception and, just as he is about to detonate the bomb in front of the senator and his family, he is killed by Ewan. Ewan leaves the hotel and sees a man carrying a suitcase which stands out from the others. Stuck in thought, the bomb blows up the entire building with Ewan as the main witness.
A month after the bombing, the incumbent government is seen as winning the election, imposing stricter anti-terrorism measures, expelling Nabil from Britain and replacing Scott as head of the Secret Service, presumably with Charlotte.
In the epilogue, Ewan finds a piece of paper and a key labelled "34" in the jacket that belonged to Hussein Malik. He goes to the nearest post office and opens box 34 with the key, finding an envelope that contains a video camera and some files among other things. He watches the footage which shows Hussein Malik claiming to be an undercover Secret Service Agent who discovered the terrorist plot of stealing Semtex explosives for suicide bombing. Hussein notifies his superior but he is instead targeted. Fearing for his life, he collects all the information proving his real identity and regarding his mission and stores them away. Ewan also finds Charlotte's lighter amongst Hussein's files. He confronts Charlotte at her countryside mansion. He realizes that Charlotte was the mastermind behind the recent events: she knew about the terrorist plot of bombings beforehand and pretended to stop them. She worked with Nabil to ensure his safe departure from Britain. She hired Mark to kill Hussein and himself. She helped the new government to win the election and has framed Scott for being corrupt to kick him out. Ewan tells her a copy of Hussein's file been sent to the media and her suicide will make the story more credible before slitting her wrists with a razor blade.
produkcja: Wielka Brytania
czas trwania: 1 godz. 48 min.
data premiery: 9 marca 2012 (świat)
 PL DVDRip
http://notepad.cc/cleanskin-terrorysta-2012-pl-dvdrip-xvid-ac3-apotv
PL.BRRip
http://notepad.cc/cleanskin-terrorysta-2012-pl-brrip-xvid-kit