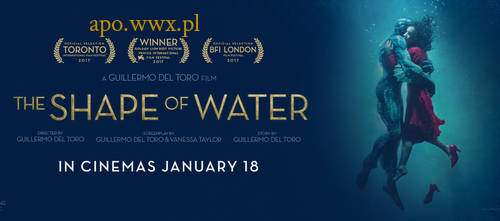 Kształt wody / The Shape of Water (2017)
GATUNEK: Przygodowy, Dramat, Fantasy, LEKTOR.PL

OPIS FILMU: Akcja filmu rozgrywa się na początku lat 60. XX wieku w Baltimore. Elisa Esposito pracuje jako woźna w tajnym rządowym centrum badawczym. Monotonne życie urozmaicają jej spotkania z tłumaczką języka migowego, Zeldą oraz z sąsiadem Gilesem, który też pracuje w ośrodku. Pewnego dnia do laboratorium zostaje przywiezione tajemnicze stworzenie, które schwytano w Ameryce Południowej. Okazuje się, że to humanoidalny płaz, z którym Elisa potajemnie się zaprzyjaźnia. Gdy dowiaduje się, że wojskowi chcą go uśmiercić w celu dalszych badań postanawia z pomocą Gilesa pomóc mu w ucieczce. Jej plan zostaje jednak odkryty przez jednego z naukowców, dr. Roberta Hoffstetlera, który w rzeczywistości jest sowieckim szpiegiem….
PLOT: At a top secret research facility in the 1960s, a lonely janitor forms a unique relationship with an amphibious creature that is being held in captivity.
Elisa Esposito was rendered mute by a neck injury she had sustained as an infant, and communicates using sign language. Living alone in an apartment above a movie theater, she works as a janitor at a secret government laboratory in Baltimore during the Cold War in the early 1960s. Her two closest friends are her next door neighbor Giles, who is an artist and closeted gay man, and Zelda, an African-American co-worker who also serves as her interpreter at work.
The facility receives a creature in a tank, which has been captured from a South American river by Colonel Richard Strickland. Curious, Elisa discovers that the creature is a humanoid amphibian. She begins visiting the creature in secret and the two form a close bond.
Seeking to exploit the creature for possible advantages in the Space Race, General Frank Hoyt orders Strickland to dissect it. One scientist, Robert Hoffstetler, who is secretly a Soviet spy, pleads unsuccessfully to keep the creature alive for further study, and is also ordered by his Russian spymasters to euthanize the creature. Elisa learns what the Americans plan for the creature, and convinces Giles to help free him. Hoffstetler discovers Elisa's plot and chooses to help her, and Zelda becomes involved as the escape is underway.
Elisa keeps the creature in her bathtub using water-conditioning chemicals smuggled out by Hoffstetler, planning to release him into a nearby canal when it opens to the ocean in several days. As part of his efforts to recover the creature, Strickland interrogates Elisa and Zelda, but he dismisses the notion that "the help" could be involved. Back at the apartment Giles discovers the creature eating one of Giles' cats. Startled, the creature slashes Giles' arm and bolts from the apartment. He gets as far as the cinema downstairs before Elisa finds him and returns him to her apartment. The creature touches Giles on his balding head and and his wounded arm, and the next morning Giles discovers that his hair has grown back and the wounds on his arm are healed. Meanwhile, Elisa joins the creature in the bathroom and they have sex.
Shortly thereafter Elisa floods her apartment to experience underwater sex with the creature. Meanwhile, Hoyt threatens Strickland's life if he does not recover the "asset" within 36 hours. At the same time Hoffstetler's spymasters tell him that he will be extracted two days later. As the planned release date approaches, the creature's health starts deteriorating.
As Hoffstetler leaves to rendezvous with his spymasters Strickland tails him. Hoffstetler is shot by his spymasters in an assassination attempt, but before they can finish Hoffstetler off Strickland kills the spymasters and then tortures Hoffstetler for information. Hoffstetler implicates Elisa and Zelda before he dies from his wounds. Strickland then threatens Zelda in her home, causing her terrified husband to reveal that Elisa had been keeping the creature. Strickland searches Elisa's apartment and finds a calendar note revealing where she is taking the creature.
At the canal Elisa and Giles bid farewell to the creature, but Strickland arrives and shoots both the creature and Elisa. The creature heals himself and kills Strickland. As police arrive on the scene with Zelda, the creature takes Elisa and jumps into the canal, where he heals her and transforms her neck scars into gills.

9-03-2018
BDRip LEKTOR PL
mirrorace.com/m/gufT
jheberg.net/captcha/apotvkwpl/
racaty.com/no2ay3g9nkrf
mirr.re/d/7LB
megadrive.co/hel5crgkdnhp

streamango.com/f/tepetarakdbkcpdf
getvi.tv/video/61594/watershape-2017-pl-apotv/

streamcherry.com/f/nnqlkltoekbrfdpt
streamcherry.com/f/ctkcrsoddnmftocc
streamcherry.com/f/stpdqnsfkllfmlrm
streamcherry.com/f/amfcsqsqcebkadpo
streamcherry.com/f/sqqpsknttdttbpbl
streamcherry.com/f/tscemlrerrnadstk
streamcherry.com/f/oboabonbqnrqrade
streamcherry.com/f/cnopnenncfpkbndn
streamcherry.com/f/tntqodocpotrsmsd
streamcherry.com/f/bcsmpeptfrbolmcq
[collapse]
14-01-2018
DVDScr SUB.PL
mir.cr/FERROPDT
mir.cr/55XW7MKW
mir.cr/1PTMAYQM
mir.cr/RHBRTB2N
[collapse]
7-01-2018
DVDScr
mirrorace.com/m/k0ha
go4up.com/dl/a644503864b4ef
megadrive.co/hvlqhk6rf5sx
do rozpakowania
mir.cr/HKBZONW8
mir.cr/Z5C8YSBI
mir.cr/02BJNWGQ
mir.cr/88AC2BMW
[collapse]
[ipc img = "1"]