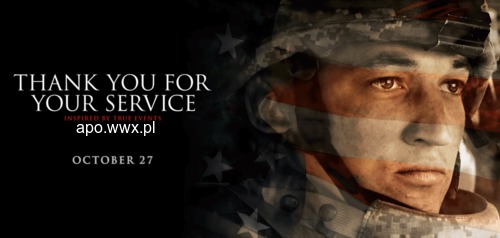 CHWAŁA BOHATEROM / Thank You for Your Service (2017)
GATUNEK: Biograficzny, Dramat, Wojenny, LEKTOR.PL
PLOT: After a harrowing 15-month combat experience in Iraq, the much-decorated Adam Schumann (Miles Teller) returns home to Kansas and a loving wife, Saskia (Haley Bennett). Adam and Saskia have two young children, a daughter and infant son born while Adam was still overseas. Adam suffers from PTSD as manifest by nightmares and frequent flashbacks for which his wife convinces him to seek help from an overburdened Department of Veterans Affairs. He also receives solace from two Iraq buddies living nearby, an American Samoan, Solo Aeiti (Beulah Koale), and Billy Waller (Joe Cole), who commits suicide in front of his fiancée (Kate Lyn Sheil) after discovering she has left him.
Adam's unresolved psychological issues revolve around his failure to safely rescue a fellow soldier from a building under fire, Michael Emory (Scott Haze), who was dropped on his head and rendered hemiplegic but later expresses gratitude to Adam for being alive, and survivor's guilt about letting Sergeant First Class James Doster (Brad Beyer) take Adam's place on patrol one day. When the Humvee with Doster filling in for Adam makes a wrong turn and hits an improvised explosive device, Solo assists the men in their escape to safety, but Doster is inadvertently left behind and dies in the conflagration. Doster's grieving widow, Amanda (Amy Schumer), who is best of friends with Saskia Schumann, finally gains closure as she learns the circumstances of her husband's death towards the end of the movie and absolves Adam and Solo of responsibility for it.
Meanwhile, Solo suffers from such severe PTSD and memory loss that he is unable to fulfill a fervent desire to reenlist for another tour in Iraq. He falls in with a group of drug dealers led by a Gulf War veteran, Dante (Omar Dorsey). Adam rescues his friend and puts him on a Greyhound bus to California, where Solo will take Adam's place at a rehabilitation center specializing in the treatment of PTSD.
OPIS FILMU:  Historia grupy amerykańskich żołnierzy powracających z Iraku… – będą zmuszeni będą stawić czoła problemom związanym z życiem cywilnym i integracją z pozostawioną na dłuższy czas rodziną. Żołnierze-cywile borykając się z traumatycznymi wspominaniami z wojny, stoczą kolejną, lecz tym razem wewnętrzną walkę z samym sobą. Wygrana zagwarantuje im powrót do codzienności, przegrana zaś… utopi w studni szaleństwa. Czyżby wspomnienia, te cienie przykrych wydarzeń, których doświadczyli na własnej skórze, miały ich zniszczyć na długo po tym, jak ostatecznie opuścili pole bitwy?
2-02-2018
BDRip LEKTOR PL

racaty.com/8vuuz6dgqdxe
mirrorace.com/m/kixO
go4up.com/dl/b26e92fe74f804
jheberg.net/captcha/chbpl/
gg.gg/chwa-boh-pl
[collapse]
9-01-2018
WEB-DL
mir.cr/83HT7LDW
[collapse]