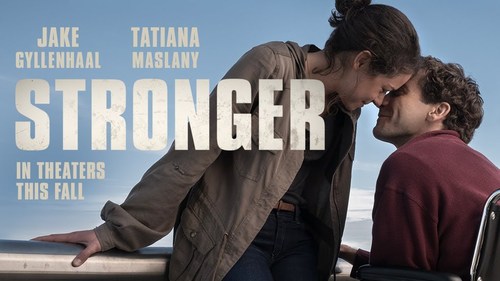 Niezwyciężony / Stronger (2017)
GATUNEK: biograficzny, dramat / LEKTOR.PL
OPIS FILMU: Oparta na faktach historia Jeffa Baumana (Jake Gyllenhaal), który w zamachu na maraton bostoński w 2013 roku stracił obie nogi. To jednak nietypowy film biograficzny, ponieważ główny bohater nie należy do nieskazitelnych typów. Ciągle zawodzi swoich przełożonych i dziewczynę, dla matki też zawsze ma jakieś wymówki. Jedno się tylko nie zmienia – miłość do Red Soxów i Bostonu. Kiedy więc okazuje się, że Jeff pomaga schwytać drugiego zamachowca, z miejsca staje się autentycznym bohaterem. Jest "Boston Strong" wszędzie witanym z należnymi honorami. Problem w tym, że sława szybko zaczyna go przytłaczać. Zdaje sobie też sprawę, że wszyscy otaczający go ludzie w końcu kiedyś go opuszczą. Dopiero wtedy zaczyna się prawdziwa walka.
PLOT: Stronger is the inspiring real life story of Jeff Bauman, an ordinary man who captured the hearts of his city and the world to become a symbol of hope after surviving the 2013 Boston Marathon bombing.
Jeff Bauman is a well-intentioned but underachieving Boston native who works at the deli counter of a Costco and lives in a small two-bedroom apartment with his alcoholic mother, Patty. One day at the local bar, Jeff runs into his ex-girlfriend Erin, who is attracted to his kindness and charm but finds herself constantly frustrated by his lack of commitment. After learning that Erin is running in the Boston Marathon to raise money for the hospital she works at, Jeff convinces every patron in the bar to donate and then promises Erin to wait at the finish line for her with a big sign.
The day of the Marathon, Jeff scrambles to make it to the finish line on time, but reaches it just before Erin reaches the finish line. As she approaches, a bomb goes off right where Jeff is standing. After being rushed to a hospital, both of Jeff's legs are amputated above the knee. When he regains consciousness, Jeff tells his brother that he saw the bomber before the explosion. Patty calls the FBI, and Jeff is able to give them a description of Tamerlan Tsarnaev. Local authorities capture Dzhokhar Tsarnaev days later, and Jeff is hailed as a hero.
Jeff struggles to adjust to his condition as well as his newfound fame. Patty books several interviews and constantly surrounds Jeff with news reporters during his rehab sessions, which Erin, who has since rekindled with Jeff, objects. Jeff and his family are invited to the Stanley Cup Finals by the Boston Bruins, who ask Jeff to wave the flag during the game's opening ceremony. The crowd triggers traumatic flashbacks from Jeff, who breaks down in the elevator. Erin comforts him and insists he talk to his family about the fragility of his mental state and the impact his newfound exposure is having on it. Later that night, they make love for the first time since his injury.
Patty books Jeff an interview with Oprah Winfrey without telling him, causing Erin to speak up and tell her that the constant media attention is intensifying Jeff's PTSD. After an argument between Patty and Erin, Jeff finally admits that he does not want to do any more interviews. Patty, disheartened, tells him that she only wishes for the world to see how amazing her son is. She soon begins enabling Jeff's worst tendencies, including his laziness and affinity for drinking. He begins missing physical therapy appointments due to long nights of drinking, usually with Patty equally as drunk. Erin, who has since moved in, finds Patty blacked out on the couch and Jeff in a bathtub, unconscious and covered in vomit. The next day, she snaps at Patty for her selfishness and negligence before calling Jeff out for his self-pity and refusal to stand up to his mother. She storms off, leaving Jeff and Patty to drive home alone.
That night, Jeff blows off Erin to drink with his brothers at a bar. Two patrons at the bar begin asking Jeff questions about the bombing, insinuating that the event was a government conspiracy to start a war in Iran, and that Jeff was paid to look like a victim. Insulted, Jeff and his brothers initiate a bar fight with the patrons. Erin picks him up later that night and tells him she's pregnant. Jeff begins to panic and tells her he isn't ready to be a father, causing Erin to scold him for constantly running away from his problems. She leaves him in the car without removing his wheelchair from the trunk, enters their apartment, and packs her things. Jeff crawls to the apartment door, and has a PTSD flashback of the bombing in its entirety.
Jeff meets with Carlos, a man who cared for him in the immediate aftermath of the bombing, saving his life. Carlos tells him about his son, a marine who died in Iraq. After attempting suicide, Carlos was forced to attend his son's funeral in a stretcher. His younger son, unable to cope with the death of his older brother and the constant state of pain his father was in, killed himself. Carlos confides that saving Jeff helped him make peace with the death of his sons, and the blame he placed upon himself because of them. Jeff begins to understand that his will to live in the face of adversity is what both comforts and inspires people. He stops drinking and begins to take his rehab more seriously. He leaves Erin a voicemail apologizing for his behavior, finally taking full responsibility for his immaturity and fear of commitment. A few days later, he and Carlos throw out the first pitch at a Red Sox game, where he meets Pedro Martinez. Erin watches at home and smiles. After the game, dozens of people come up to Jeff and tell him how and why he has so heavily impacted their lives.
He and Erin meet at a diner, where he walks with his prosthetics for the first time without assistance. He tells Erin he loves her, to which she replies "Good". He grabs her hand, and smiles.

12-01-2018
BDRip LEKTOR PL
mirrorace.com/m/k4dg
upload.mn/gy3cob33l1q3
megadrive.co/4mfr9mrt3lvt
jheberg.net/captcha/npl-2/
go4up.com/dl/46f9730ab06b38
racaty.com/z591io804377
wwx.pl/14js
[collapse]