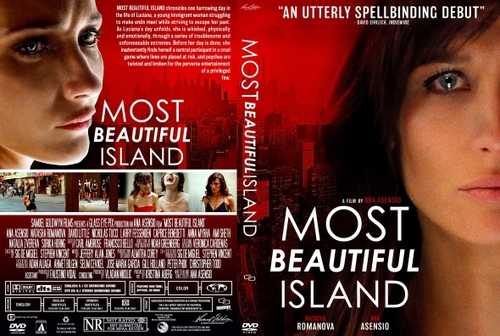 NAJLEPSZA z WYSP / Most Beautiful Island (2017)
GATUNEK: Dramat | Thriller
OPIS FILMU: Mieszkająca w Nowym Jorku młoda Hiszpanka Luciana skrywa mroczną przeszłość, która nie daje jej spokoju. W dodatku brakuje jej pieniędzy – wyjada współlokatorce produkty z lodówki, nie ma jak zapłacić za lekarza czy taksówkę, chwyta się mało satysfakcjonujących fuch. Podczas jednej z nich, kiedy w przebraniu kurczaka rozdaje ulotki na Times Square, poznaje Olgę, rosyjską modelkę, która, tak jak ona, próbuje przetrwać w wielkim mieście. Chcąc pomóc, nowa znajoma odstępuje jej dobrze płatne zlecenie: ma tylko zjawić się w czarnej sukience na przyjęciu. Luciana poznaje na nim mroczne oblicze Nowego Jorku, które dla zaproszonych tam dziewcząt może okazać się śmiertelnie niebezpieczne.
PLOT: Most Beautiful Island is a chilling portrait of an undocumented young woman's struggle for survival as she finds redemption from a tortured past in a dangerous game.
MOST BEAUTIFUL ISLAND is a psychological thriller examining the plight of undocumented female immigrants hoping to make a life in New York. Shot on Super 16 with an intimate, voyeuristic sensibility, the film chronicles one harrowing day in the life of Luciana, a young immigrant woman struggling to make ends meet while striving to escape her past. As Luciana's day unfolds, she is whisked, physically and emotionally, through a series of troublesome, unforeseeable extremes. Before her day is done, she inadvertently finds herself a central participant in a cruel game. Lives are placed at risk, while psyches are twisted and broken for the perverse entertainment of a privileged few.
13-01-2018
DVDRip
mir.cr/RZKBNSKJ
mirrorace.com/m/7uk4
[collapse]