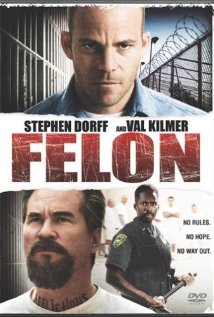 Skazaniec / Felon (2008)
Gatunek: Dramat, Kryminał
OPIS FiLMU: Wade Porter (Stephen Dorff), kochający swoją rodzinę mężczyzna z obiecującą przyszłością, zabijając włamywacza traci wszystko, na czym mu zależało. Skazany za morderstwo drugiego stopnia, Wade zostaje przetransportowany do więzienia o zaostrzonym rygorze, gdzie spędzić ma następne trzy lata życia. W miejscu, gdzie nie obowiązują żadne reguły Porter zostaje umieszczony w celi z mordercą (Val Kilmer) i natychmiast staje się obiektem upokorzeń sadystycznego strażnika (Harold Perrineau). Szybko staje się jasne, że czeka go walka życia, bowiem, by przetrwać, Wade musi stać się najtwardszym skazańcem ze wszystkich. Co Cię nie zabije, to Cię wzmocni, a w stanowym więzieniu przetrwają tylko najsilniejsi.
PLOT:  Family man Wade Porter (Stephen Dorff) is living the American Dream with his girlfriend Laura (Marisol Nichols) and their son Michael: they have a nice house, he has just raised a loan to make his company grow and they are going to get married. However their dream becomes a nightmare when Wade unintentionally kills a burglar that had broken into their house in the middle of the night on his lawn. Due to the fact that Wade attacked the intruder and killed him outside of the house, he is tried for murder, and accepts a deal proposed by the prosecutor, being sentenced to three years in prison. In the county jail, Wade gets into a brawl the first night after being attacked by an inmate in the community cell.
After his sentencing is given, he is transferred to Corcoran State Prison. On the bus ride over, Danny Sampson, leader of the local Aryan Brotherhood, kills a man and hides the knife with a young Aryan member sitting behind Wade. In a moment's panic, the young man hides the knife under Wade and forces him to deny knowledge of the knife. As a result, Wade is sent to solitary confinement until the mess can be sorted out. Upon further investigation by Lieutenant Jackson (Harold Perrineau), Jackson is convinced Wade is an accessory to murder, and decides to send Wade to the Security Housing Unit (SHU), of which Jackson is the commanding officer.
Life is tough for Wade in the SHU. In addition to 23-hour lockdown days, and the inability to see his family at first, the 1-hour yard days consist of fights, to which the guards bet on. Scared and desperate, Wade initially groups with the Aryans, even going so far as to shave his head. His cell-mate John Smith (Val Kilmer) who was serving a life sentence after avenging the death of his family befriends Wade and gives helpful advice and hope to him.
produkcja: USA
czas trwania: 1 godz. 44 min.
data premiery: 13 lipca 2008 (świat)