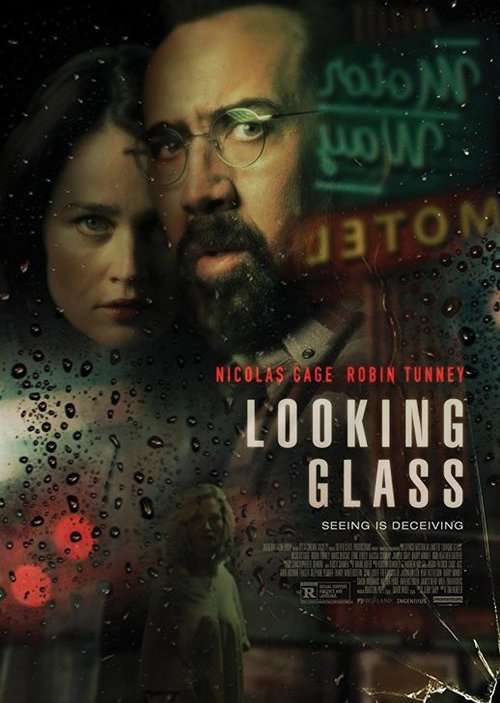 ZWIERCIADŁO / Looking Glass (2018)
GATUNEK:  Thriller, LEKTOR.PL
OPIS FILMU:   Para nabywa motel na pustyni, w którym po pewnym czasie zaczyna dochodzić do niecodziennych zdarzeń.
Po tragicznych przeżyciach małżeństwo postanawia zacząć wszystko od nowa. Decydują się na zakup opuszczonego motelu. Początkowo wszystko idzie tak jak planowali. Jednak po pewnym czasie w jednym z częściej rezerwowanych pokojów zaczynają dziać się absolutnie niewytłumaczalne i przerażające rzeczy.
PLOT: A couple buy a desert motel where they find that strange, mysterious events occur.
After losing their daughter to a tragic accident, shattered couple Ray and Maggie purchase a motel in the middle of nowhere in the hopes of starting a new life. But Ray begins to notice strange goings-on, and starts to piece together the history of a bizarre murder associated with the motel. Poking around in a basement one day, Ray discovers a crawl space, which leads to a two-way mirror into one of the rooms. As he becomes obsessed with the unusual activities that happen beyond the looking glass, his marriage, sanity and his very life are threatened.

23.03.2018
BRRip LEKTOR PL
jheberg.net/captcha/apotv-lgpl/
mirrorace.com/m/8ih5
multiup.org/20e6287cdfb1201cc4c33e65e18a2511
streamcherry.com/f/ckfstfqtbotnaofm
[collapse]
17.02.2018
WEB-DL
jheberg.net/captcha/nix-lg/
racaty.com/4uzlbr87p6tx
megadrive.co/exgslz15swrt
[collapse]

[ipc img = "1"]