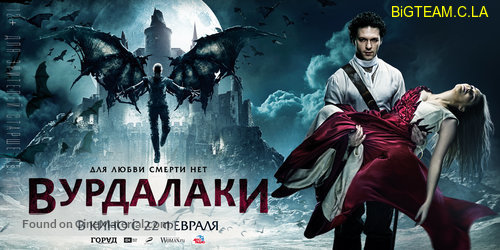 Wampiry / Vurdalaki (2017)
GATUNEK: Fantasy, Thriller, akcja, 
OPIS FiLMU:  XVIII wiek. Caryca Elżbieta wysyła swojego chrześniaka Andrieja (Konstantin Kriukow) do klasztoru w nawiedzonej górskiej okolicy Karpat, by odszukał i sprowadził z powrotem do Petersburga na dwór przebywającego tam na wygnaniu jej byłego spowiednika (Michaił Porieczenkow) posiadającego tajemną wiedzę. Na miejscu Andriej jest świadkiem niesamowitych i przerażających zjawisk, których jego racjonalny umysł nie jest w stanie w żaden sposób wytłumaczyć. Spotyka tam także piękną dziewczynę, w której szybko się zakochuje. Zagraża jej ogromne niebezpieczeństwo. Andriej będzie musiał zmierzyć się z nadprzyrodzonym złem, by ocalić ukochaną. Film na podstawie opowiadania Aleksieja Tołstoja "Rodzina wilkołaka".
PLOT: In the distant part of the Carpathian Mountains, near the border with the Ottoman Empire, there is an old monastery. The monk lives in it, the exiled confessor of Empress Elizabeth, an expert on mysterious powers. A tsarist official comes from St. Petersburg to bring him back to the city. Mission ends with fiasco, the monk refuses. The messenger, along with his servant, stops in a nearby settlement. She meets a beautiful girl there, in which she falls in love at first sight. Soon, the heroes are witnesses of unusual, terrifying events that they can not understand. Villagers disfavor about the revival of ancient Evil – Ghouls are made of graves – Soon, with the help of a monk, they will face an army of undead and save a girl who plays a key role in the plans of the awakened Lord of Darkness.

15.04.2018
720p LEKTOR PL
jheberg.net/captcha/vurdalaki2017pl720pblurayx264b89/
multiup.org/46ca19212f774870ad553df1fea498dd
mirrorace.com/m/26l9w
go4up.com/dl/ea102503397851

streamcherry.com/f/ndrbeenndrdaeatn
streamango.com/f/sftekeoamrltfbqp
streamcherry.com/f/oqsmsmaaenpkmcom
[collapse]
[ipc img = "1" type="red"]