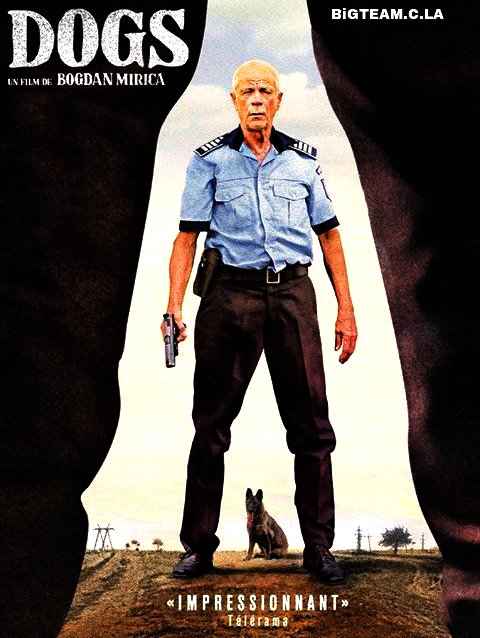 PSY / DOGS (2016) 
GATUNEK: dramat,
OPIS FiLMU:  Roman, młody człowiek z Bukaresztu przyjeżdża na wieś, pod granicę ukraińską. Chce sprzedać ziemię, którą odziedziczył po dziadku. Miejscowy policjant ostrzega go, że to nie będzie takie proste. Dziadek był miejscowym bossem i jego chłopcy nie pozwolą pozbyć się ziemi, dzięki której kręci się szmuglerski interes. Grupą rządzi teraz charyzmatyczny i okrutny Samir, któremu nie podoba się pomysł sprzedaży. Roman nie chce ulec Samirowi. Wygląda na to, że nie obejdzie się bez przemocy.
PLOT:  Roman returns to the land he has just inherited from his grandfather. Fully decided to sell this vast but desolate property, he is warned by the local cop that his grandfather was a local crime lord and his men will not let go of the land..
Roman – a young man from the city – comes to a remote village in rural Romania to sell the land he inherited from his departed grandfather. Once there, Roman is exposed to a series of strange events, all culminating with him discovering that his grandfather used to be a local crime lord. In order to sell, Roman has to face his grandfather's -deputies-, led by Samir – an affable and charismatic Tartar. Meanwhile, Hogas, the local policeman, investigates the finding of a severed foot, but what he's really after is getting revenge at any cost on Samir, his lifetime nemesis.
19.04.2018
DVDRip LEKTOR PL
racaty.com/2vwpoqe9yczc
mirrorace.com/m/26pqg
go4up.com/dl/2b677edf457f13
multiup.org/68c10964cbe2cca9631e9cd62b88b2f6
jheberg.net/captcha/bigteamcla-dpl/
suprafiles.net/pw2z8mz41hxa
ddl.to/s6hicv8q5muq/BT-Dogs.2016.PL..avi.mp4.html
[collapse]
[ipc img = "1" type="red"]