Appleseed Alpha (2014)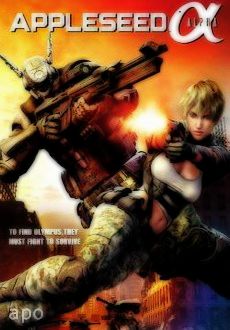 Gatunek.: Animacja, Akcja, Sci-Fi, LEKTOR.PL
OPIS: Bohaterami filmu są Deunan i jej scyborgizowany przyjaciel Briareos, którzy podczas wyprawy na obrzeża rozdartego wojną miasta natykają się na Iris i Olsona. Pochodzą oni z tajemniczego Olimpu i być może posiadają rozwiązanie mogące ocalić świat. Są jednak tacy, którym zbawienie nie jest w smak.
PLOT: Appleseed Alpha depicts the early days of Deunan Knute and Briareos in the 22nd century, as they embark on a journey throughout dystopic ruins of New York in search of the city of Olympus. They are hired by Two Horns, the warlord of the ruined city, to eliminate bipedal combat machines. During the fight, they encounter Iris (voiced by Brina Palencia) and Olson, both on a mission. Deunan and Briareos befriend them and decide to join their mission.
Iris is tasked with preventing the malevolent cyborg Talos from capturing a secret weapon humans were building. Talos uses Iris to activate the gigantic war machine.
Director: Shinji Aramaki
Writers: Marianne Krawczyk (screenplay), Masamune Shirow (original story)
Stars: Luci Christian, David Matranga, Brina Palencia
Produkcja…: Japonia, USA
Czas trwania….: 90 min
PL BRRip
http://notepad.cc/appleseed-alpha-2014-pl-brrip-xvid-mins
PLSUBBED BRRip
http://notepad.cc/appleseed-alpha-2014-plsubbed-brrip-xvid-mins
BDRip
http://notepad.cc/appleseed-alpha-2014-480p-bdrip-xvid-ac3-evo