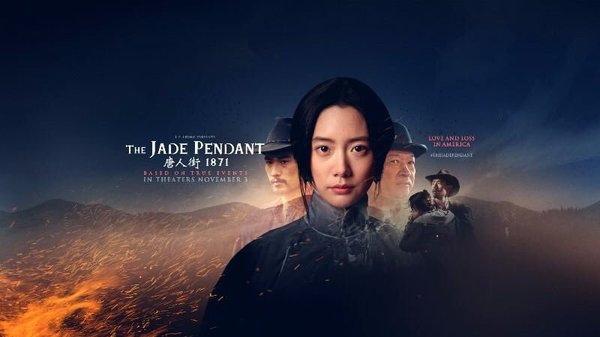 THE JADE PENDANT (2017)
GATUNEK: dramat, historyczny, western
OPIS FiLMU: Tragiczna historia miłosna na tle zlinczowaniu 18 chińskich imigrantów w Los Angeles w 1871 roku. Uciekając od aranżowanego małżeństwa w Chinach, niezależna Piwonia podpisuje kontrakt na pracę jako "dziewczyna z kwiatami" w Ameryce, gdzie poznaje Toma, Amerykanina urodzonego w chinach kucharza, którego ojciec pracuje na kolei transkontynentalnej.
Film jest opowieścią o pierwszej wielkiej chińskiej imigracji do Stanów Zjednoczonych – opowieści o romansie, bigoterii, pasji, jedzeniu i poszukiwaniu wiecznej miłości – przeciwstawiającej się największemu zlinczowaniu ludzi w historii Ameryki, w Chinatown w Los Angeles, w 1871 roku.
PLOT: A tragic love story set against the lynching of 18 Chinese immigrants in Los Angeles, in 1871. Fleeing an arranged marriage in China, the independent Peony signs a contract to work as a "flower girl" in America, where she meets Tom, an American Born Chinese cook whose father works on the Transcontinental Railroad. Thwarted by a Hong Kong Triad boss seeking to extend his power into America, theirs is the tale of the first great Chinese immigration to the United States – a story of romance, bigotry, passion, food and a search for everlasting love – set against the largest mass lynching in American history, in Los Angeles' Chinatown, in 1871.

29.04.2018
DVDRip
jheberg.net/captcha/bigteamcla-thejadependant2017dvdrip-2/
racaty.com/6wjin0dpgn6q
suprafiles.net/mui54y75fq3j
file-upload.com/3lwepq5vjlsl
ddl.to/mdnz9dvmowzc/BiGTEAM.C.LA-The.Jade.Pendant.2017.DVDRip.mkv.html
jheberg.net/captcha/bigteamcla-thejadependant2017dvdrip/
[collapse]
[ipc img = "1" type="red"]