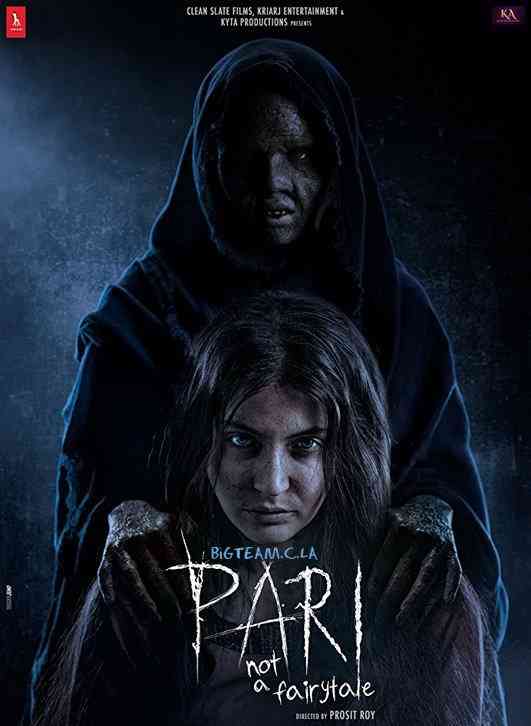 PARI (2018)
GATUNEK: Horror | Mystery
OPIS: Pari jest nadprzyrodzonym horrorem, w którym mężczyzna próbuje pomóc kobiecie o imieniu Ruksana, ofierze nadużyć, którą znalazł przykutą łańcuchem w chacie.
Arnab typowy bengalski człowiek wraca do Kalkuty po spotkaniu z dziewczyną przed zaaranżowanym małżeństwem. On i jego rodzice lubili dziewczynę, a małżeństwo jest już dogadane. Nagle zdarzył się wypadek… Jego samochód uderza w starą kobietę. Zabierają ją do szpitala – niestety – umiera po drodze. W ten sposób Arnab poznaje Rukhsanę, tajemniczą dziewczynę, która mieszka w chacie poza wsią z kilkoma psami –  którą matka zawsze przykuwa ją do słupa metalowymi łańcuchami, zanim opuści dom…
Arnab wraz z swoją rodziną wracają samochodem do domu po spotkaniu z Piyali, którą młody chłopak ma poślubić. Gdy nastaje ulewa ojciec chłopaka potrąca staruszkę, która ginie na miejscu. Policja wraz z Arnabem udaje się do domu staruszki by sprawdzić czy posiadała rodzinę. Na miejscu odnajdują przykutą łańcuchem córkę staruszki Rukshanę, która wydaję się być odizolowana od świata zewnętrznego. Arnab czując się winnym śmierci jej matki postanawia jej pomóc z pochówkiem. Po wszystkim odsyła ją do domu, w którym została znaleziona. Dziewczyna jednak nie ma chwili spokoju bowiem ściga ją główny przedstawiciel satanistycznej sekty, z której dziewczyna kiedyś uciekła. Przerażona odnajduje mieszkanie Arnaba, który daje jej schronienie nie wiedząc, że Rukshana nie jest zwykłą dziewczyną, a potworem który niedługo zmieni jego życie w piekło.
PLOT: Pari is a supernatural horror film in which a man attempts to help a woman named Ruksana, an abuse victim, who he found chained up in a hut.
On a rainy day, Arnab and his parents are traveling in a car after meeting Piyali regarding his marriage. Their car hits a strange looking old woman who dies on the spot. Arnab and cops locate her house where her daughter Ruksahana is chained who doesn't seem to be normal and is disconnected from outside world. After performing last rites of her mother Arnab leaves Ruksahana back to her house. But Professor Qasim Ali comes to capture her with his men who know about her identity. But she manages to escape and reach Arnab's place who shelters her not knowing her true identity.

09.05.2018
WEB-DL PLSUBBED
mirrorace.com/m/48Bmj
suprafiles.net/n1komm722pgj
racaty.com/5guh90q69y9u
openload.co/f/LAguLCW27VI
streamango.com/f/fbfoeofbrbosqcfl
streamcherry.com/f/ffaseebotbsqqmtf
getvi.tv/video/82628/09-05-2018-pari-pl-subbed-web-dl-bigteam-c-la/
[collapse]
06.05.2018
WEB-DL
mirrorace.com/m/4Ow5p
racaty.com/0z4bqgd8vnl5
multiup.org/bda862aff4c6b73d1e6f0ad567e588ff
jheberg.net/captcha/06052018-pari2018720pweb-dl-bigteamcla/
getvi.tv/video/81667/06-05-2018-pari-2018-720p-web-dl-bigteam-c-la/
[collapse]
[ipc img = "1" type="red"]