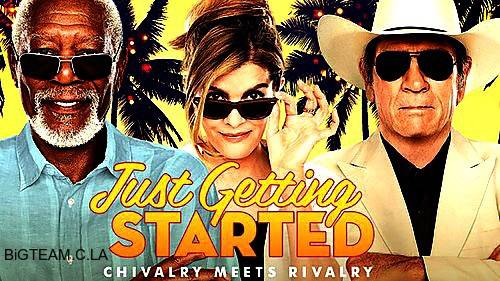 Just Getting Started / Villa Capri (2017)
GATUNEK: Akcja, Komedia,
OPIS filmu:  Były agent FBI i były gangster są objęci programem ochrony świadków. Gdy mafia wydaje na nich wyrok śmierci, muszą odłożyć na drugi plan swoją rywalizację z pola golfowego. Tylko współpracując, będą w stanie przetrwać.
PLOT: Defense lawyer Duke, who once defended the heads of the world's most dangerous criminal teams, now manages the luxury resort Villa Capri in Palm Springs, California. Leo, a former FBI agent, arrives at the resort and repeatedly beats Duke at every competition. As manager of the resort, Duke is initially threatened by the newcomer's activities with the ladies and competitive nature. Their competition even extends to a rivalry over Suzie, the regional director of the resort chain. During the competitions Duke's life is put in danger multiple times and he realizes that the mafia has found him and is attempting to kill him. Duke and Leo must work together to defeat the mafia and save Duke's life during the Christmas season at Villa Capri.

14.05.2018
BDRip  LEKTOR PL
mirrorace.com/m/3sHqb
racaty.com/rzvt9fwr1dl9
suprafiles.net/s38p2v1jp5w5
multiup.org/8595b2a7dc4d5062c12a4ea7971a77b7
jheberg.net/captcha/bigteamcla-jgspl/
ddl.to/jilozgp9avu0/Just.Getting.Started.2017.PL.BDRip.x264.LPT.mkv.mp4.html
[collapse]
[ipc img = "1" type="red"]