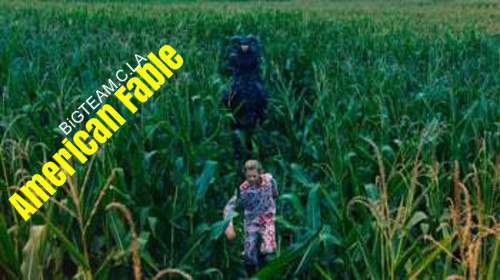 AMERYKAŃSKA BAŚŃ / American Fable (2016)
GATUNEK: Thriller,
OPIS FiLMU:   Gitty (Peyton Kennedy) ma jedenaście lat i żyje w stworzonym przez siebie świecie wyobraźni, by nie myśleć o problemach finansowych rodziny. Nagle dziewczynka znajduje się w trudnej sytuacji, gdy odkrywa, że jej ojciec (Kip Pardue) i starszy brat (Gavin MacIntosh) porwali bogatego mężczyznę (Richard Schiff). Obaj liczą, że uda im się dostać okup w zamian za wypuszczenie zakładnika. Gitty musi zdecydować czy ważniejsze jest dla niej ludzkie życie, czy wierność rodzinie.
PLOT: A dark, dreamlike mystery plays out amidst the expansive farmlands of the American Midwest in this wondrous, storybook thriller. With her family's livelihood imperiled by the farm crisis of the 1980s, eleven-year-old Gitty (Peyton Kennedy) loses herself in a world of fantasy and make believe. But she stumbles into her own fairytale when she makes a startling discovery: a well-dressed mystery man (Richard Schiff) being held captive in her family's silo. It's the beginning of a labyrinthine journey that will turn Gitty's world upside down and force her to question her loyalty to her own family. The feature debut from director Anne Hamilton unleashes a torrent of gorgeous, stunningly surreal images as it immerses viewers in a child's imagination.
13.07.2018
WEB-DL LEKTOR PL
mirrorace.com/m/49v5d
racaty.com/ilkbc4s9dd6d
multiup.org/29d7fab2277109633faf2c0187bdac51
jheberg.net/captcha/americanfable2016plwebdlxvidkit/
[collapse]
[ipc img = "1" type="red"]