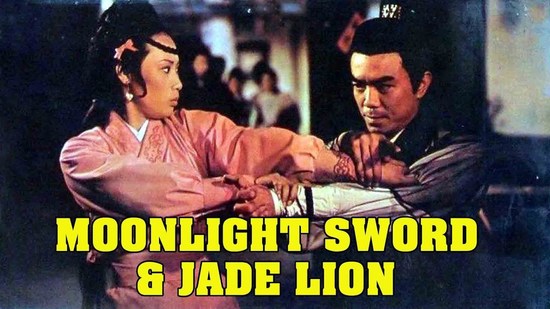 Moonlight Sword and Jade Lion (1977)
GATUNEK: akcja, karate, dramat,
OPIS FiLMU:   Przebojowa adeptka sztuk walk, Chu Siew Yen (Angela Mao), obiecuje swojemu nauczycielowi, że odnajdzie jego zaginionego brata. Podczas poszukiwań dziewczyna stara się też poznać tożsamość zabójcy swoich rodziców. Odkrycie prawdy utrudniają Chu nieżyczliwi ludzie, których – jak się okazuje – nie brak.
PLOT: Tyrone Shu directs Lung Chun, Wang Tao, and Angela Mao in the historically set martial arts film Moonlight Sword & Jade Lion. During the Sung Dynasty, Mao plays a martial arts expert who finds herself involved in a variety of political intrigues. "Feisty ace martial artist Chu Siew Yen promises her teacher that she will find his missing brother. During her search Chu also tries to discover the identity of the person who killed her parents. Of course, accomplishing said tasks proves easier said than done as Chu faces opposition from many people she encounters on the way to uncovering the truth.

25.07.2018
DVDRip LEKTOR PL
racaty.com/f9zwrb0bos2l

mirrorace.com/m/3tHku

mirrorace.com/m/3tHkv

megadrive.co/h4bf0z9ar7hb

ddl.to/4xxhg9il8tvy

waaw.tv/watch_video.php?v=xNnk8dG5wJNk

rapidshare.is/f/FTMSZKEJOS

multiup.org/fa395b2e032fce57eebdac7c75109737

jheberg.net/captcha/26072018-moonlightswordandjadelion1977-bigteamcla/

wrzucajpliki.pl/2qeziowtl7pj/26.07.2018-Moonlight.Sword.and.Jade.Lion.1977–BiGTEAM.C.LA–DVDRip.PL.avi
[collapse]
[ipc img = "1" type="red"]