The Den (2013) DVDRip x264-WiDE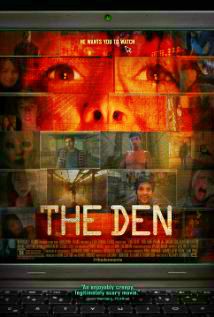 OPIS: Bohaterką filmu jest Elizabeth, studentka pracująca nad pracą dyplomową na temat użytkowników wideoczatów. Pewnego razu trafia na transmisję z brutalnego morderstwa. W końcu uwikłuje się w niebezpieczną rozgrywkę z seryjnym zabójcą.
PLOT: A young woman studying the habits of webcam chat users from the apparent safety of her apartment witnesses a brutal murder online and is quickly immersed in a nightmare in which she and her loved ones are targeted for the same grisly fate as the first victim.
Director:  Zachary Donohue
Writers:  Zachary Donohue, Lauren Thompson
Stars:  Melanie Papalia, David Schlachtenhaufen, Matt Riedy
Tytuł.: The Den
Produkcja…: USA
Gatunek…: Horror | Thriller
Czas trwania…: 81 min.
Premiera…: 23.12.2013 – Świat
The Den (2013) DVDRip x264-WiDE