Test pilota Pirxa (1978) PL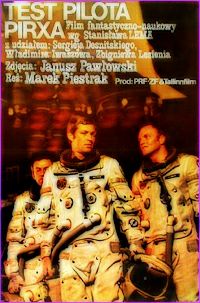 OPIS: Pirx jest dowódcą statku kosmicznego "Goliath", w skład załogi którego oprócz ludzi, wchodzi także android. Lot jest pionierski i testowy – ma wykazać przydatność robotów w tego rodzaju wyprawach, dlatego też dowódca nie wie, kto z jego załogi jest androidem, a kto człowiekiem. Za wszystkim stają wielkie pieniądze, bowiem robot jest produktem megakoncernu. Lot nie przebiega spokojnie, w okolicy Saturna zdarza się katastrofa, jak się okaże, zainscenizowana przez zaprogramowanego robota, której załoga miała nie przeżyć. Android zaś miał wyprowadzić statek z zagrożenia, tym samym udowadniając swoją przydatność. Pirx nie jest jednak przewidywalnym dowódcą. Jego nieszablonowe zachowanie dezorientuje robota i ocala załogę.
PLOT: The movie is about "finite nonlinears," robots that closely resemble human beings but are even more perfect than humans. They are intended to eventually replace human beings in space flights. Somewhat apprehensive about their usefullness, the United Nations sets up a space flight to determine their reactions to the human beings who also make up the crew. Pirx is selected as a commander of the flight, although the identity of the robots is not revealed to him…
Director: Marek Piestrak
Writers: Stanislaw Lem (story), Marek Piestrak (screenplay) »
Stars: Sergei Desnitsky, Boleslaw Abart, Vladimir Ivashov
Gatunek: Drama | Sci-Fi
Data premiery 25 maja 1979
Kraj produkcji Polska, ZSRR
Język polski
Czas trwania 95 min.
Test pilota Pirxa (1978) PL