The Reckoning (2014) BRRip 480p XviD AC3-EVO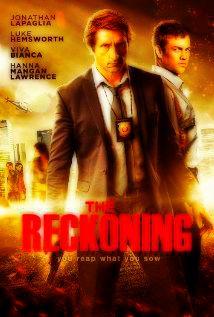 OPIS: Po zabójstwie partnera detektyw tropi dwóch nastoletnich uciekinierów, którzy posiadają nagrania mogące ujawnić tożsamość mordercy.
PLOT: After his partner is murdered, a detective must track down two teenage runaways whose video footage contains the identity of the killer.
The Reckoning is an upcoming Australian crime thriller feature film written and directed by John V. Soto, starring Luke Hemsworth, Viva Bianca, Jonathan LaPaglia, Hanna Mangan Lawrence, and Alex Williams. The film premiered at the British Independent Film Festival on the 10th of May 2014 where it won Best Director (John V. Soto) and Best Music (Thomas Rouche). The thriller is due to open on 8-10 screens in Sydney, Melbourne, Brisbane and Perth in September. The Reckoning was produced by Filmscope Entertainment's Deidre Kitcher. This is Filmscope Entertainments third feature film following Crush and Needle. Lightning Entertainment is selling foreign rights.
Director: John V. Soto
Writer: John V. Soto
Stars: Viva Bianca, Luke Hemsworth, Hanna Mangan Lawrence
Produkcja..: Australia
Gatunek.: Thriller
Czas trwania…: 85 min.
Premiera..: 21.08.2014 – Świat
[imdb id="tt2452470″]
The Reckoning (2014) BRRip 480p XviD AC3-EVO
http://notepad.cc/the-reckoning-2014-brrip-480p-xvid-ac3-evo