Ośmiorekin kontra pterakuda / Sharktopus Vs Pteracuda (2014)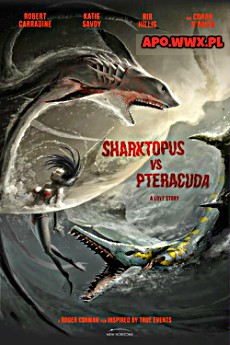 OPIS FiLMU – Naszpikowana efektami specjalnymi kontynuacja jednej z najważniejszych produkcji telewizyjnych ostatnich lat powraca. Tym razem hybryda rekina i ośmiornicy – Sharktopus – musi powstrzymać innego mutanta, którym jest Pteracuda, czyli pół pterodaktyl, a pół barrakuda.
PLOT – SHARKTOPUS VS PTERACUDA finds an American scientist up to no good (as usual) by creating the half-pterodactyl, half-barracuda: Pteracuda. When the creature inevitably escapes, it's up to Sharktopus to stop him.
Director: Kevin O'Neill
Writer: Matt Yamashita
Stars: Robert Carradine, Akari Endo, Tony Evangelista
Produkcja.: USA
Gatunek.: Sci-Fi
Czas trwania..: 84 min.
Premiera..: 02.08.2014 – Świat
[imdb id="tt3743126″]
Sharktopus vs Pteracuda 2014 BRRip X264 AC3-PLAYNOW
Sharktopus Vs Pteracuda (2014) TVRip XviD AC3-JB