Love, Marilyn / Z pamiętnika Marilyn Monroe (2012)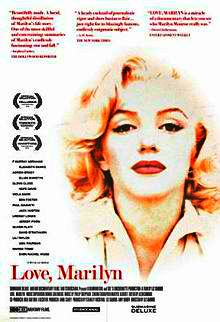 Gatunek..: Dokumentalny, LEKTOR.PL
OPIS: Sylwetka słynnej, hollywoodzkiej aktorki, która do tej pory jest ucieleśnieniem kobiecego seksapilu. 50 lat po śmierci Marilyn Monroe w domu Lee Strasberga zostają znalezione dwa pudełka pełne jej listów, wierszy, osobistych notatek i prywatnych dokumentów. W filmie odczytują je aktorzy, krytycy filmowi, dziennikarze i pisarze, którzy znali aktorkę bądź z nią pracowali. Uzupełniają je teksty napisane przez Normana Mailera, Glorię Steinem, Billy'ego Wildera i Trumana Capote, a także wypowiedzi nauczycieli, przyjaciół, kochanków i fanów Marilyn. Wyłania się z nich portret osamotnionej gwiazdy, która musiała walczyć o swoją pozycję w przemyśle filmowym. Dokument w reżyserii Liz Garbus miał swoją premierę na Międzynarodowym Festiwalu Filmowym w Toronto w dniu 12 września 2012 r. Film wzbogacono ciekawymi, w dużej mierze nieznanymi zdjęciami i nagraniami Marilyn.
PLOT: 50 years after her death, two boxes of Marilyn Monroe's writings—diaries, poems and letters—were discovered in the home of Lee Strasberg, her acting coach. The film features dramatic readings of Marilyn Monroe's writings by actors, film critics, journalists and authors; and archival footage of Hollywood insiders who knew her or worked with her in various films or acting school.
Love, Marilyn is a 2012 American documentary film about Marilyn Monroe's writings produced by Stanley F. Buchthal, Liz Garbus, Amy Hobby, and directed by Garbus. The film premiered at the Toronto International Film Festival on September 12, 2012  and is based on the 2010 non-fiction book Fragments: Poems, Intimate Notes, Letters, edited by Stanley F. Buchthal and Bernard Comment. The production firms that produced the film included the Diamond Girl production company, Sol's Luncheonette Production and the French-based StudioCanal production company, whose parent company (Canal+ Group) owns the third-largest film library in the world.
The film was initially slated to be named Fragments, but was later changed to Love, Marilyn.
Director: Liz Garbus
Writers: Truman Capote (excerpts from memoirs), Liz Garbus»
PL.HDTV
notepad.cc/love-marilyn-z-pami-tnika-marilyn-monroe-2012-pl-h