God's Not Dead / Bóg nie umarł (2014)

PLSUBBED

BRRip.Xvid-K12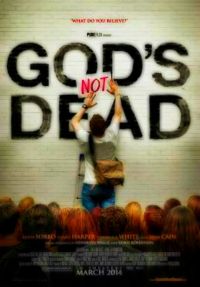 OPiS: Profesor Radisson (Kevin Sorbo) rozpoczyna zajęcia z filozofii od postawienia świeżo upieczonym studentom ultimatum: muszą, na piśmie, zanegować istnienie Boga, albo pożegnają się z dobrą oceną. Kiedy wszyscy studenci zaczynają posłusznie pisać "God Is Dead", Josh Wheaton (Shane Harper) czuje, że właśnie znalazł się na rozdrożu i będzie musiał wybrać pomiędzy swoją wiarą, a swoją przyszłością. Nerwowo sprzeciwia się, co prowokuje profesora. Wzburzony Radisson wyznaczaza chłopakowi nowe zadanie: musi udowodnić istnienie Boga, posługując się racjonalnymi argumentami i dowodami przed zakończeniem semestru, a także przekonać do tego resztę studentów – lub obleje kurs. Kiedy Josh orientuje się, że nie może liczyć na niczyje wsparcie, zaczyna wątpić czy faktycznie potrafi walczyć o to w co wierzy.
PLOT: Present-day college freshman and devout Christian, Josh Wheaton (Shane Harper), finds his faith challenged on his first day of Philosophy class by the dogmatic and argumentative Professor Radisson (Kevin Sorbo). Radisson begins class by informing students that they will need to disavow, in writing, the existence of God on that first day, or face a failing grade. As other students in the class begin scribbling the words "God Is Dead" on pieces of paper as instructed, Josh find himself at a crossroads, having to choose between his faith and his future. Josh offers a nervous refusal, provoking an irate reaction from his smug professor. Radisson assigns him a daunting task: if Josh will not admit that "God Is Dead," he must prove God's existence by presenting well-researched, intellectual arguments and evidence over the course of the semester, and engage Radisson in a head-to-head debate in front of the class. If Josh fails to convince his classmates of God's existence, he will fail the course and hinder his lofty academic goals. With almost no one in his corner, Josh wonders if he can really fight for what he believes. Can he actually prove the existence of God? Wouldn't it just be easier just to write "God Is Dead" and put the whole incident behind him? GOD'S NOT DEAD weaves together multiple stories of faith, doubt and disbelief, culminating in a dramatic call to action. The film will educate, entertain, and inspire moviegoers to explore what they really believe about God, igniting important conversations and life-changing decisions.College philosophy professor Mr. Radisson's curriculum is challenged by his new student, Josh, who believes God exists.
Director: Harold Cronk
Writers: Hunter Dennis (story), Chuck Konzelman (story) »
Stars: Shane Harper, Kevin Sorbo, David A.R. White
Produkcja..: USA
Gatunek..: Familijny
Czas trwania..: 112 min.
Premiera..: 21.03.2014 – Świat
[imdb id="tt2528814″]
God's Not Dead / Bóg nie umarł (2014) PLSUBBED.BRRip.Xvid-K12
http://notepad.cc/gods-not-dead-bog-nie-umarl-2014-plsubbed-brrip-xv