Evangelion 2.22: You Can (Not) Advance (2009) BDRip x264-VoMiT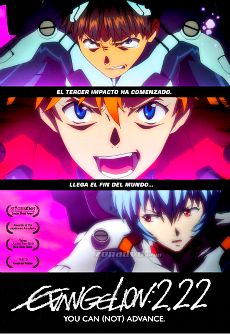 OPIS: W czasie bezustannego ataku aniołów, NERV wprowadza dwóch nowych pilotów: tajemniczego Makinami Mari Illustrous i żywiołową Asukę Langley Shikinami. W tym samym czasie Gendo Ikari i SEELE kontynuują prace nad tajnym projektem, który dotyczy zarówno Rei jak i Shinji.
PLOT: Under constant attack by Angels, NERV introduces two new pilots: the mysterious Makinami Mari Illustrous and the intense Asuka Langley Shikinami. Parallel to the incursion, Gendo Ikari and SEELE proceed the secret project that involves both Rei and Shinji.
Tytuł.: Evangelion 2.22: You Can (Not) Advance / Evangelion Shin Gekijōban: Ha
Ocena..: IMDB – 8.1/10 (8035), Filmweb – 7.7/10 (1444)
Produkcja.: Japonia
Gatunek.: Sci-Fi, Anime, Dramat
Czas trwania.: 120 min.
Premiera.: 27.06.2009 – Świat
Reżyseria..: Hideaki Anno, Kazuya Tsurumaki, Masayuki
Scenariusz: Hideaki Anno
Aktorzy.: Megumi Hayashibara, Megumi Ogata, Kôichi Yamadera
Evangelion 2.22: You Can (Not) Advance (2009) BDRip x264-VoMiT
http://notepad.cc/evangelion-2-22-you-can-not-advance-2009-bdrip-x26