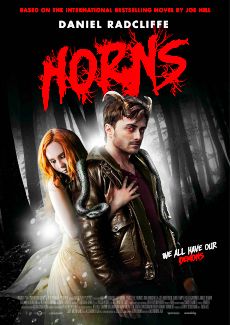 Horns / Rogi (2013)
GATUNEK:    Horror, Dramat , Fantasy, LEKTOR.PL

OPIS FILMU: Ig Perrish (Daniel Radcliffe) nie może przypomnieć sobie wydarzeń poprzedniego wieczoru. Jego dziewczyna zostaje znaleziona martwa, a on sam podejrzany o jej morderstwo. W poszukiwaniu zabójcy niespodziewanie pomocne okazują się tajemnicze rogi, które wyrastają młodzieńcowi z czoła. Dzięki nim Ig poznaje najmroczniejsze tajemnice i myśli otaczających go ludzi. Pod ich wpływem górska osada przerodzi się w istne piekło na Ziemi i nawet święci zamienią się w grzeszników. Jak znaleźć mordercę, gdy wszyscy podejrzani swoim zachowaniem zawstydziliby samego Szatana?
 PLOT: Ig Perrish's girlfriend, Merrin, was raped and murdered, leaving him the prime suspect and shunned by the community. After unsuccessfully defending himself, Ig wakes up one morning with large horns protruding from his forehead. He soon discovers that good people do not notice the horns, but they are revealing their darkest secrets in his presence. While under anesthesia at the doctor's office, Ig dreams about himself and his friends including Lee, who is now his lawyer, and Eric, Glenna, and his brother, Terry. Lee introduced Ig to Merrin, whom he first noticed in church. Merrin accidentally broke the cross on her necklace, but Lee repairs it. Realizing Ig likes Merrin, Lee trades him the necklace for a cherry bomb. Ig gives the cross back to Merrin, beginning their relationship. The cherry bomb later goes off in Lee's hand, putting him in the hospital.
Back in the present, Ig begins embracing his horns' power, manipulating the behavior of those around him. However, his efforts lead him no closer to discovering Merrin's killer. It's revealed that on the night she was murdered Merrin ended their relationship, leaving him heartbroken and suspicious she loved someone else.
Ig confronts Terry, and through skin contact, can read Terry's mind; Terry drove Merrin home the night she was killed, but she exited into the woods. Terry fell asleep waiting for her to return, and woke up the next morning holding a blood-stained rock. He removed any evidence linking him to her murder. Shocked by his revelations, Ig brutally beats Terry, and is arrested by Eric, who is now a policeman. Ig notices that snakes are following him, and he can control them to attack and punish people.
The next day, Ig tells Lee what has been happening. Lee has been unable to see Ig's horns and is unaffected by their manipulative influence. When Ig notices Lee is wearing Merrin's cross, he rips it off. The cross had been shielding Lee from Ig's horns all along but he now succumbs to their power. By touching Lee's skin, Ig sees the night of the murder. Lee followed Merrin into the woods where he declared his love for her, thinking she broke up with Ig because she loved Lee, but she rebuffs him by saying she loves only Ig. Angered, Lee raped and murdered her, then fled, then attempted to frame Terry. Back in the present, Ig is overpowered and badly injured by Lee, who sets him on fire inside his car. Tortured by the flames, Ig drives his car into the water and presumably drowns. Lee tells people that Ig confessed to the murder and committed suicide. Ig survives the incident due to his powers, though is badly scarred and mutilated. He goes to Merrin's embittered father, who gives him a key with Ig's name on it; a gift left by Merrin before her death. Ig then wears Merrin's cross, which heals his burns and removes his horns. He takes the key to his and Merrins childhood tree house and unlocks a secret storage compartment. There is letter from Merrin that reveals that she had cancer and she knew he was going to propose to her soon. She wanted more than anything to be his wife but to spare Ig the pain of seeing her slowly die, she split up with him under a pretense. Though heartbroken, Ig is overjoyed that Merrin still loved him. He confronts Lee and demands he go to the police and confess his guilt. Terry and Eric also arrive, having learned the truth and realizing Lee murdered Merrin. Lee agrees to confess, but while Eric escorts him at gunpoint, Lee manages to seize the gun, kill Eric, and badly wound Terry. As Lee prepares to kill Ig, Ig tears Merrin's cross from his neck and transforms into a satanic, demon-like monster, summoning his army of snakes to kill Lee. Ig begins dying from his wounds and spends his last moments with Terry, before turning into stone. In the end, Ig and Merrin are reunited in heaven.