Blekitna laguna / The Blue Lagoon (1980)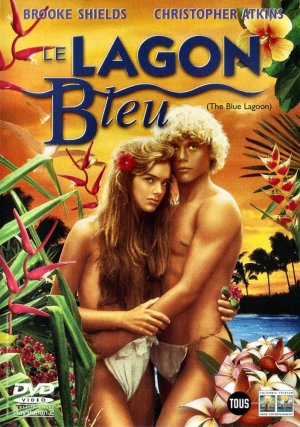 OPIS FILMU : BŁĘKITNA LAGUNA to ekranizacja słynnej powieści Henry'ego DeVere'a Stackpoole'a, zrealizowana we wspaniałych plenerach południowego Pacyfiku. Dwoje małych dzieci i kucharz okrętowy cudem uchodzą z życiem z katastrofy morskiej i bezpiecznie dopływają do brzegów bezludnej tropikalnej wyspy. Kiedy kucharz umiera, chłopiec i dziewczyna muszą sami walczyć o przetrwanie. Mijają lata i Emmeline (Brooke Shields) i Richard (Christopher Atkins) dorastają w otoczeniu dzikiej i egzotycznej przyrody. Uczą się stawiać czoła wyzwaniom, który nie szczędzi im okres dojrzewania, a łącząca ich dziecięca fascynacja przeradza się w głębokie uczucie. Emmeline rodzi dziecko, a Richard otacza ją troskliwą opieką. Ale czy kiedykolwiek uda im się wrócić do cywilizowanego świata?
PLOT: This 1980 version of the oft-filmed Henry Devere Stackpoole novel The Blue Lagoon was the first to be stamped with an "R" rating. The basic story remains unchanged. Two very small children, a boy and a girl, are shipwrecked on a lush tropical island. They are cared for by fellow castaway Leo McKern. When he dies, the kids, played with a minimum of clothing by Brooke Shields and Christopher Atkins, have no one but each other. When they grow into teen-hood, they also fall madly in love. Heavily reshaped and reedited before its release, The Blue Lagoon's principal attribute is the lush photography by Nestor Almendros. In 1990, a sequel was made, Return to the Blue Lagoon.
104 min – Przygodowy | Dramat | Romans
Director: Randal Kleiser
Writers: Henry De Vere Stacpoole (novel), Douglas Day Stewart
Stars: Brooke Shields, Christopher Atkins, Leo McKern
Blekitna laguna / The Blue Lagoon (1980)