The Four 3 (2014)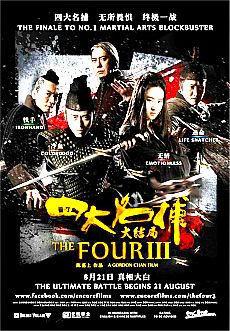 Gatunek.: Fantasy, Akcja – PLSUBBED
OPIS FiLMU: Trzecia część przygód czterech funkcjonariuszy prawa, którzy łączą siły, by przeciwstawić się złu w świecie pełnym magii, demonów i nieumarłych.
Plot: The movie sees the return of Heartless, Iron Fist, Hunter and Cold Blood, four detectives who dedicate their unique and special skills to the service of Master Zhuge in solving crimes and apprehending powerful criminals.
Tytuł.: Si Da Ming Fu III / The Four 3
Produkcja…: Chiny, Hongkong
Czas trwania…: 106 min.
Premiera.: 21.08.2014 – Świat
Reżyseria..: Gordon Chan
Aktorzy…: Ronald Cheng, Collin Chou, Chao Deng, Yifei Liu
PLSUBBED

BRRip

http://notepad.cc/the-four-3-2014-plsubbed-brrip-xvid-kit
BDRip
http://pokazywarka.pl/the-four-3-2014-bdrip-x264-rovers/