Jupiter Ascending / Jupiter Intronizacja (2015)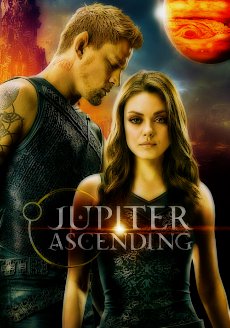 OPiS FiLMU: Jupiter Jones (Mila Kunis) urodziła się pod osłoną nocnego nieba, a jej narodzinom towarzyszyły znaki świadczące o tym, że jest stworzona do wielkich rzeczy. Dorosła już Jupiter nadal chce sięgać gwiazd, ale na ziemię sprowadzają ją obowiązki pani sprzątającej cudze mieszkania i niekończąca się passa nieudanych związków. Dopiero gdy na Ziemię przybywa Caine (Channing Tatum), genetycznie zaprogramowany były zwiadowca wojskowy, którego celem jest odnalezienie Jupiter, zaczyna ona dostrzegać przeznaczenie, które czekało na nią cały czas: w jej kodzie genetycznym jest bowiem zapisane, że jest spadkobierczynią niezwykłego dziedzictwa, które może zmienić układ sił we wszechświecie.
PLOT: Jupiter Jones was born under the night sky, and all the signs predicted that the girl has a great accomplishments. Jupiter has grown and every day dreaming of stars, but wakes up in a harsh reality, where she works as a cleaner and wash toilets. Jupiter's personal life also leaves much to be desired, until the girl meets Kane. Kane, a former military hunter comes to Earth to find Jupiter and reveal the girl her true destiny. Due to genetic characteristics Jupiter becomes contender to incredible heritage , which capable of changing the balance in the universe.
Original Title: Jupiter Ascending
Release Date: 4 February 2015
IMDB Ratings:
Genres: Action, Adventure, Sci-Fi
Directors: Andy Wachowski, Lana Wachowski
 PL BRRip
Jupiter Ascending / Jupiter Intronizacja (2015) PL BRRip XviD-KiT